Request a Sample
Your Sample Request
Chemtronics OpticWipes
*=required field
Chemtronics OpticWipes
Opticwipes™ are 100% noncontaminating cellulose paper. These wipers have high absorbency, and contamination entrapment, as well as high wet strength. Opticwipes™ are ideal for wiping sensitive components and optical grade surfaces.
Features & Benefits
100% cellulose
Packaged in a Class 100 cleanroom environment
Highly absorbent; high wet strength
Noncontaminating
Solvent resistant
Use to clean optical surfaces, photo processing, lab equipment and other precision instrumentation
Applications
Clean optical surfaces, optical processing equipment
Protecting optical surfaces during storage/shipping
Lining cleanroom trays and work benches
Separating silicon wafers
Drying electronic components
Cleaning precision lab instrumentation
| | |
| --- | --- |
| Shelf Life | 5 yrs. |
| Shipping Name | Wipes |
Articles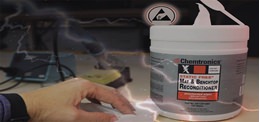 Try Our New Static Free Mat & Benchtop Reconditioner Wipes
Cleans and Rejuvenates ESD-Safe Surfaces Chemtronics Static Free™ products are engineered to protect electronic equipment and workspaces from static buildup while cleaning and reconditioning. These products provide everything required for a comprehensive surface treatment program as recomm...
Read This Post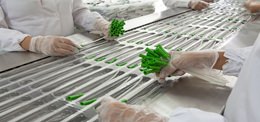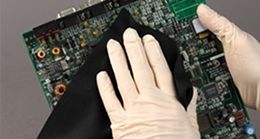 Using Black Polyester Cleanroom Wipes: Is It Really Clean?
Coventry Cleanroom Products The whole point of wiping a surface with a cleanroom wipe is to remove contaminants including dust, dirt, oil, greases, soot, getting the flux off and so on. But, after wiping, how clean is the surface? How can it be guaranteed? How can an operator or quality inspec...
Read This Post
Order from an Authorized Distributor