Chemask NA – Non-Ammoniated Solder Mask
3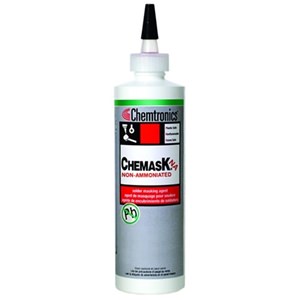 Request a Sample
Your Sample Request
Chemask NA – Non-Ammoniated Solder Mask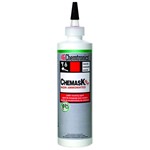 *=required field
Chemask NA – Non-Ammoniated Solder Mask
Chemask® NA Non-Ammoniated Solder Masking Agent is a latex and ammonia free, fast curing, peelable temporary spot mask formulated for safe use on sensitive metals. It contains high-temperature resistant compounds that protect component-free areas during wave soldering. Chemask® NA may be used to protect pins, posts, contacts and edge connections in the solder reflow oven or during conformal coating processes.
Features & Benefits
Will not affect gold, copper, nickel, silver and OSP finishes
For lead-free or tin/lead processes
Stable to 550º F (288ºC)
Phthalate-free, low toxicity and environmentally safe
Compatible with rosin, no-clean and water soluble flux types
Dries tack free in 15 minutes
Can be placed directly into pre-heat oven without waiting
Removes easily and leaves no residue
Non-contaminating, non-staining and noncorrosive
RoHS compliant
Applications
Engineered for use with bare copper, silver, and other reactive metals
Ideal for SMT applications
TDS
MSDS
(ANSI)
SDS (GHS)
Categories
| | |
| --- | --- |
| Specifications | MIL-STD-2000A, PARA.5.3.18 |
| Shelf Life | 2 yrs. |
| Shipping Name | Coating Compound Not Regulated |
FAQ's
How do I avoid peelable solder mask from breaking off and leaving residue behind?
The follow are factor to consider when trying to avoid breakage: 1) Curing – Partially cured mask will have more of a tendency to break or leave residue. 2) Temperature and duration in extreme heat – Mask is designed for wave soldering, which is about a second of exposure to molten solder temperatures (generally 550°-650°F). If the mask is sent through a reflow oven the duration is much longer, which can lead to more mask brittleness. If the mask is exposed to high-temperature solder (e.g. silver), it can also lead to more brittleness. 3) Application method – When hand applying, we recommend holding the bottle at about a 60° angle, rather than upright at 90°. That tends to apply the material as a thick blanket over the areas to be masked. When the bottle is held at 90°, the mask is generally applied thinner, and is forced through holes and around components. Those thin areas are more likely to become brittle and stay behind, and mask pushed into holes and around components is harder to remove, so more likely to break.
Articles
Ultimate Guide to Temporary Solder Mask
What is Temporary Solder Mask Temporary solder mask (also called "spot mask") is used every day in the assembly of electronic circuit boards. Solder mask is engineered to protect thru-holes or "vias" in wave soldering. It has to withstand extreme soldering temperatures and...
Read This Post
Order from an authorized distributor