9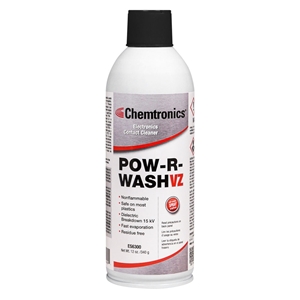 Pow-R-Wash VZ
Nonflammable electronic contact cleaner that is safe on most plastics
Pow-R-Wash™ VZ electronic contact cleaner is a highly effective nonflammable solvent cleaner for electrical and electronic contacts and assemblies. The non-ozone depleting solvent system quickly remove oils, oxides, and other contaminants from metal contacts. Pow-R-Wash VZ Contact Cleaner is specially engineered to restore and improve electrical continuity on energized equipment.
VERIZANE™ Cleaning Chemistry (VZ) - Engineered to replace HCFC-141b, these low odor, no flash, nonflammable aerosols offer the most cleaning value for your money.
So ditch the dirt — without blowing your budget!
New improved formula with lower global warming. (click link for more info)
Features & Benefits
Nonflammable
Dielectric Breakdown 15 kV
Noncorrosive
Evaporates quickly without leaving residue
Ideal AK225 replacement
Applications
All repair and maintenance contact cleaning
Cleaning of metal contacts, plugs and sockets, solenoids
Removing oxidized soils from switches, circuit breakers, motors and armatures
| | |
| --- | --- |
| Shelf Life | 5 yrs. |
| Shipping Name | Consumer Commodity ORM-D |
Order from an authorized distributor
FAQ's
Articles