Static Free Mat and Benchtop Reconditioner
1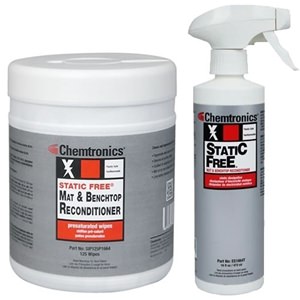 Request a Sample
Your Sample Request
Static Free Mat and Benchtop Reconditioner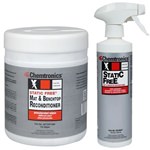 *=required field
Static Free Mat and Benchtop Reconditioner
This is our tried and true Mat Cleaner (ES1664T) on a lint-free wipe. It removes caked-on flux and other contamination off your ESD-safe mats and adds a little treatment that rejuvenates the dissipative surface. These wipes can bring old ESD-safe mats BACK TO LIFE!
Static Free™ Mat & Benchtop Reconditioner is an excellent surface treatment specifically engineered for use in ESD sensitive environments. Static Free™ Mat & Benchtop Reconditioner penetrates and lifts light oils, fingerprints and flux residues from surfaces while providing static dissipative protection.
Features & Benefits
Rejuvenates dead spots and burn marks on ESD mats
Removes oil and flux residue
Excellent for extending life of ESD mats
Will not dry mat surfaces with repeated use
Long-lasting dissipative protection; up to 30 days
Effective in relative humidities below 15%
Noncorrosive, chloride and amine-free
Nonflammable and nonabrasive
Meets static decay criteria of MIL-B-891705C
Applications
Cleaning and restoring ESD mats
Revitalizing ESD mats without drying out and promoting cracking
Great for benchtops, tool cribs and assembly surfaces; even works at low relative humidity
TDS
MSDS
(ANSI)
SDS (GHS)
Categories
| | |
| --- | --- |
| Specifications | IPC-ESD-20-20, MIL-STD-1686C, MIL-HDBK-263B |
| Shelf Life | 5 yrs. unopened and 2 yrs. opened |
| Shipping Name | Cleaning Compound N.O.I |
Articles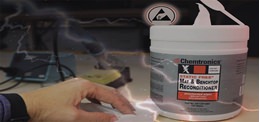 Try Our New Static Free Mat & Benchtop Reconditioner Wipes
Cleans and Rejuvenates ESD-Safe Surfaces Chemtronics Static Free™ products are engineered to protect electronic equipment and workspaces from static buildup while cleaning and reconditioning. These products provide everything required for a comprehensive surface treatment program as recomm...
Read This Post
Order from an authorized distributor