Freeze-It Antistatic Freeze Spray
4
Request a Sample
Your Sample Request
Freeze-It Antistatic Freeze Spray
*=required field
Freeze-It Antistatic Freeze Spray
Freez-It® Antistat is engineered for locating thermal intermittent electrical components or cooling printed circuit boards with minimal static generation. This circuit refrigerant system is nonflammable, residue-free and provides fast cooling action.
Features & Benefits
Pinpoint spray isolates individual components without freezing surrounding areas
Antistatic formulation ideal for use on static sensitive components
Rapidly cools components to -60°F/-51°C
Non-abrasive, safe for use on plastics and other sensitive surfaces
Nonflammable
CFC/HCFC free
Evaporates quickly, leaves no residue
Minimal frost formation
Applications
Cool Equipment for Testing
Dissipate Heat While Soldering or Desoldering
Isolate Thermal Intermittent Components
Test Circuit Traces for Continuity, Stress Fractures
Track Static Sensitive Components
| | |
| --- | --- |
| Specifications | 6850-01-560-5804 |
| NSN | ES1551 - 6850-00-142-40716 |
| Shelf Life | 10 yrs. |
| Shipping Name | Consumer Commodity ORM-D |
Order from an authorized distributor
FAQ's
How do I properly dispose of an aerosol can after it is empty?
It may be different state-by-state, so contact your state environmental agency for regional specific regulations. For a general guideline, here is the process according to EPA hazardous waste regulations 40CFR. The can has to be brought to or approach atmospheric pressure to render the can empty. Puncturing is not required, only that it "approach atmospheric pressure", i.e. empty the can contents until it's no longer pressurized. This insures that as much contents as is reasonably possible are out of the can. It is then considered "RCRA-empty". At that point it can be handled as any other waste metal container, generally as scrap metal under the recycling rules. Note that the can is still considered a solid waste at this point (not necessarily hazardous waste).
Is there something I can do with the extension tube (straw) so it doesn't get lost?
The red cap on Chemtronics aerosol products like flux removers, degreasers, and Freeze-It Freeze Spray has a notch on the top. That is engineered for the straw to snap in and hold into place so you don't loose it. The aerosol trigger sprayers that are common on dusters, freeze sprays, and flux removers, have two ways to store the straw when not in use. The hole at the back of the body of the sprayer is just the right size for the straw to slide into place for storage. The slot below the trigger is also the right size for the straw to snap into place, which also has the advantage of locking the trigger.
How do I figure out the shelf life of a product?
The shelf life of a product can be found on either the technical data sheet (TDS), available on the product page, or by looking on the certificate on conformance (COC). The COC can be downloaded by going to https://www.chemtronics.com/coc. Once you have the shelf life, you will need to add it to the manufacture date for a use-by date. The manufacture date can be identified by the batch number. The batch code used on most of our products are manufacture dates in the Julian Date format. The format is YYDDD, where YY = year, DDD = day. For example, 19200 translates to the 200th day of 2019, or July 19, 2019. This webpage explains and provides charts to help interpret our batch numbers: https://www.chemtronics.com/batch-codes.
Articles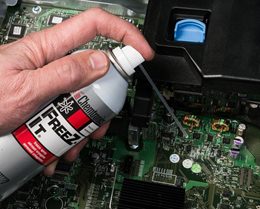 Ultimate Guide to Diagnostic Freeze Spray
Diagnosing and repairing electronics can be painstaking and sometimes frustrating work. Problems can be intermittent, with the faulty area on the PCB difficult to locate. Freeze spray is an essential tool, because it helps identify faulty components, solder joints, and other problems that can lead t...
Read This Post