4
Request a Sample
Your Sample Request
Pow-R-Wash PR
*=required field
Pow-R-Wash PR
Pow-R-Wash™ PR is a plastics safe electronic contact cleaner that removes oxides and other soils on de-energized equipment. Engineered with very low surface tension, this high pressure aerosol formulation flushes areas clean and evaporates instantly leaving no residue.

Contact cleaners restore electrical continuity to all electronic and electrical contacts by penetrating and removing insulating oil & grease, conductive carbon soil, and isolative oxides from contact surfaces. By restoring full circuit continuity, Chemtronics contact cleaners improve the performance of electronic equipment that relies on electrical contacts. Aerosols can be sprayed in any direction, even upside down. Look for the "All-Way Spray" icon on the can.
Features & Benefits
Safe on plastics
Flammable
Dielectric Breakdown 44 kV
Dries fast
Leaves no residue
Applications
Ideal for removing degraded contact lubricants
Removes oils and grease from wire harnesses
Ideal for use on sensitive plastics
TDS
MSDS
(ANSI)
SDS (GHS)
Categories
| | |
| --- | --- |
| Shelf Life | 5 yrs. |
| Shipping Name | Consumer Commodity ORM-D |
Order from an authorized distributor
FAQ's
How do I figure out the shelf life of a product?
The shelf life of a product can be found on either the technical data sheet (TDS), available on the product page, or by looking on the certificate on conformance (COC). The COC can be downloaded by going to https://www.chemtronics.com/coc. Once you have the shelf life, you will need to add it to the manufacture date for a use-by date. The manufacture date can be identified by the batch number. The batch code used on most of our products are manufacture dates in the Julian Date format. The format is YYDDD, where YY = year, DDD = day. For example, 19200 translates to the 200th day of 2019, or July 19, 2019. This webpage explains and provides charts to help interpret our batch numbers: https://www.chemtronics.com/batch-codes.
Articles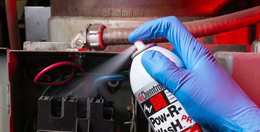 Ultimate Guide to Contact Cleaners
You're getting intermittent issues with your device, so you suspect there's contamination in the electrical contacts. Dust, dirt, grease, and oxidation contamination can increase electrical resistance in contact areas. That means the current flow is potentially reduced or interrupted, affecting ...
Read This Post