1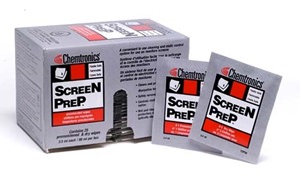 Screen Prep
Convenient cleaning and static control for monitors
Screen Prep™ Presaturated Wipes are a convenient cleaning and static control system for use on monitor screens. This two part system is excellent for use on computer display screens, scope and dial faces, and glass and plastic surfaces of instruments. These highly effective cleaning wipes are safe on plastics and are ideal for cleaning sensitive surfaces. Screen Prep™ provides a static–dissipative treatment to the surface to control static–generated contamination. Screen Prep™ removes dust, fingerprint oils and other vision-inhibiting contaminants, and leaves no residue.
Screen Prep™ Presaturated Wipes contain isopropyl alcohol and an anti-static agent.
Features & Benefits
Cleans and leaves a static dissipative treatment; reduces dirt attraction
Prevents airborne recontamination for up to seven days
Safely removes dust, dirt and oils
Controls static-generated contamination
Wet pad cleans and applies static protection; dry wiper wipes screen optically clear
Applications
Cleaning monitors and preventing airborne recontamination for up to seven days
| | |
| --- | --- |
| Shelf Life | 2 yrs |
| Shipping Name | Wipes |
Order from an authorized distributor
FAQ's
How do I figure out the shelf life of a product?
The shelf life of a product can be found on either the technical data sheet (TDS), available on the product page, or by looking on the certificate on conformance (COC). The COC can be downloaded by going to https://www.chemtronics.com/coc. Once you have the shelf life, you will need to add it to the manufacture date for a use-by date. The manufacture date can be identified by the batch number. The batch code used on most of our products are manufacture dates in the Julian Date format. The format is YYDDD, where YY = year, DDD = day. For example, 19200 translates to the 200th day of 2019, or July 19, 2019. This webpage explains and provides charts to help interpret our batch numbers: https://www.chemtronics.com/batch-codes.