Chemtronics Flextip Swabs
3
Request a Sample
Your Sample Request
Chemtronics Flextip Swabs
*=required field
Chemtronics Flextip Swabs
Flextips™ and Flextips™ Mini Swabs are constructed from medical grade, 100 ppi, polyurethane foam which features fine cell structure, providing excellent particle entrapment characteristics. The foam is thermally bonded to the nylon paddle and the polypropylene swab handle without using adhesives. The tough nylon paddle is very flexible and virtually unbreakable. These swabs are ideal for general cleaning applications.
CLICK HERE FOR SWAB SELECTION GUIDE
Features & Benefits
Superior durability
Provides gentle, nonabrasive cleaning of sensitive surfaces
100 ppi foam head
Traps surface particles while cleaning
High solvent capacity; holds solvent well
Fiberless construction does not generate loose fibers or particles
No adhesives or binders are used in the construction
Economical for high quantity applications
Applications
Clean excess adhesives after gluing
Clean micro-mechanical devices
Remove Flux residues from printed circuit boards
Apply small precise quantities of adhesive or lubricants
| | |
| --- | --- |
| Shelf Life | 5 yrs. |
| Shipping Name | Swabs |
Order from an authorized distributor
FAQ's
What is a foam swab? / Why should I use a foam swab?
While cotton bud swabs (aka Q-tips) are commonly used for all kinds of precision cleaning, foam swabs are commonly used to reduce contamination from cotton threads and particulates. Foam swabs are usually made of open cell polyurethane for maximum cleanliness and absorbency. Foam swabs are usually made of open cell polyurethane for maximum cleanliness and absorbency.
Articles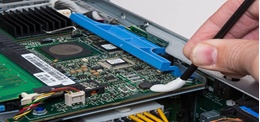 Choosing the Best Swab for Aggressive Solvents
In precision cleaning applications, swabs can be used on their own to remove contamination. However, more often swabs are used together with a solvent to remove contamination. The success of the cleaning effort depends in part on the compatibility between the swab and the cleaning solvent. U...
Read This Post
How to Choose The Right Swab for Industrial Applications
Swabs are often thought of as just tufts of cotton fiber wrapped around a stick. And while cotton swabs have their uses, more complex solutions are needed for critical industries like medical device assembly, cleanroom, electronic manufacturing, and PCB assembly. Swabs are usefu...
Read This Post