Chemtronics Microtip Swabs
2
Request a Sample
Your Sample Request
Chemtronics Microtip Swabs
*=required field
Chemtronics Microtip Swabs
Microtips™ are designed for precision applications needing pinpoint accuracy. The tapered porous polyvinylidene fluoride tip is effective as a stylus or pick for areas with tight tolerances. The tip is attached to the handle without the use of potentially contaminating adhesives or glues. These swabs are ideal for adhesive and lubricant application.
CLICK HERE FOR SWAB SELECTION GUIDE
Features & Benefits
Porous polyvinylidene fluoride-tipped precision cleaning tools
Low in extractables and low particulate levels
Compatible with most solvents, adhesives, coatings, and inks
Tapered 1.925 mm tip can be used as a stylus
Assembled without adhesives or glues
Total Swab Length: 17.0 cm
Head Material: porous polyvinylidene fluoride
Head Width & Length: 1.93 mm x 15.7 mm
Handle Material: Polypropylene Handle
Width & Thickness: 3.3 mm x 3.3 mm
Applications
Excellent choice for dispensing and dispersing solvents, adhesives, and primers
| | |
| --- | --- |
| Shelf Life | 5 Yrs |
| Shipping Name | Swabs |
Order from an authorized distributor
Articles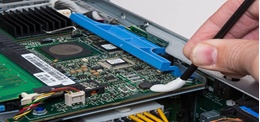 Choosing the Best Swab for Aggressive Solvents
In precision cleaning applications, swabs can be used on their own to remove contamination. However, more often swabs are used together with a solvent to remove contamination. The success of the cleaning effort depends in part on the compatibility between the swab and the cleaning solvent. U...
Read This Post