Electrical Contact Cleaning
Electrical Contact Cleaning
---
Contact Us
Contact Us
Electrical Contact Cleaning
*=required field
A high purity, electronic contact cleaner will remove environmental contaminants and protect contacts from corrosion and frictional wear. Contact cleaners restore electrical continuity to all electronic and electrical contacts by penetrating and removing insulating oil and grease, conductive carbon soil, and insulative oxides from contact surfaces. By restoring full circuit continuity, Chemtronics contact cleaners improve the performance of all equipment that relies on electrical contacts. Aerosols can be sprayed in any direction, even upside down. Look for the "All-Way Spray" icon on the can. Recommended for every phase of electronics and electrical contact maintenance including:
Metal contacts

Plastic-embedded contacts

Potentiometers
Relays and switches
Circuit breakers

Fuse blocks

Electronic controls

Electrical panels

Motors and armatures

Plugs and sockets

Solenoids
Choose Your Product
Filter by attributes
Dielectric Breakdown
Plastic Sensitivity
(Choose One)
Flammability
Environmental - Safety
---
FAQ's
Articles
---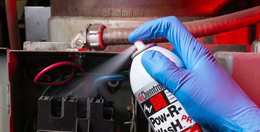 Ultimate Guide to Contact Cleaners
You're getting intermittent issues with your device, so you suspect there's contamination in the electrical contacts. Dust, dirt, grease, and oxidation contamination can increase electrical resistance in contact areas. That means the current flow is potentially reduced or interrupted, affecting ...
Read This Post