Presaturated Swabs and Wipes
Pre-Wetted Wipes & Swabs for Quck, Easy Cleaning
Presaturated swabs and wipes combine Chemtronics highly effective cleaners and static dissipative treatments with the convenience of a disposable applicator.
Presats are convenient to use and ideal for field service kits
Alchohol swabs and wipes are hermetically sealed to prevent evaporation and maintain the solvent effectiveness
Our presaturated products can be used in a wide variety of applications:
Cleaning optical surfaces
Cleaning fiber optic connectors and fusion splicers
Cleaning computer keyboards
Cleaning and applying ESD treatments to display screens
Removing oil, dust and other contaminants
Cleaning and protecting sensitive contact surfaces
---
Articles
---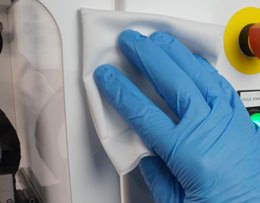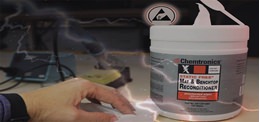 Try Our New Static Free Mat & Benchtop Reconditioner Wipes
Cleans and Rejuvenates ESD-Safe Surfaces Chemtronics Static Free™ products are engineered to protect electronic equipment and workspaces from static buildup while cleaning and reconditioning. These products provide everything required for a comprehensive surface treatment program as recommend...
Read This Post