Chemask WF – Water Filterable Solder Mask
11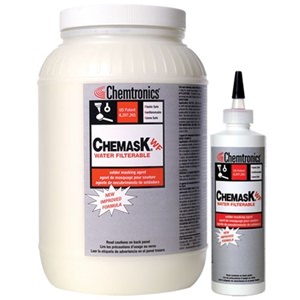 Request a Sample
Your Sample Request
Chemask WF – Water Filterable Solder Mask
*=required field
Chemask WF – Water Filterable Solder Mask
Low foaming, water filterable temporary solder masking agent
Chemask® WF Solder Masking Agent is a high-temperature temporary spot mask that protects component-free areas from molten solder during wave soldering. It is water soluble, designed to be removed with open and closed loop aqueous cleaning systems. Chemask® WF is low foaming and has no effect on deionized water (DI) system resin beds. This water-soluble formulation is stable to rosin, organic and inorganic fluxes.
Features & Benefits
Easily removed in water cleaning cycles
Does not coat filtration equipment
Noncorrosive; safe for sensitive contacts
Removed with inexpensive filters, increasing the life span of activated carbon/resin beds
US Patent Number 6,207,265
Applications
Ideal for use with closed loop cleaning systems
Increases productivity by reducing cleaning system maintenance
Short-term high-temperature protection from molten solder to 515ºF/268ºC
| | |
| --- | --- |
| Specifications | MIL-STD-2000A, Para.5.3.18 |
| Shelf Life | 1 yr |
| Shipping Name | Coating Compound Not Regulated |
| Harmonization Code | 2508.4 |
Order from an authorized distributor
FAQ's
Articles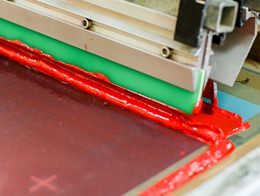 Screen Printing Chemtronics Temporary Solder Masks
For large scale production operations, Chemask WF Water-Filterable Mask (part #CWF8) can be screen printed over large areas of the circuit board. While screen printing has the potential to drastically increase production throughput, you need to be aware of specific issues that can come up when using...
Read This Post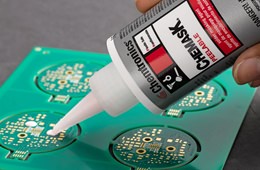 Ultimate Guide to Temporary Solder Mask
Temporary solder mask (also called "spot mask") is used every day in the assembly of electronic circuit boards. Solder mask is engineered to protect thru-holes or "vias" in wave soldering. It has to withstand extreme soldering temperatures and still be removed easily and efficiently at the end of th...
Read This Post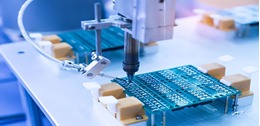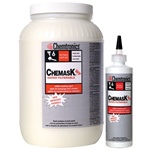 Chemask WF – Water Filterable Solder Mask
Low foaming, water filterable temporary solder masking agent