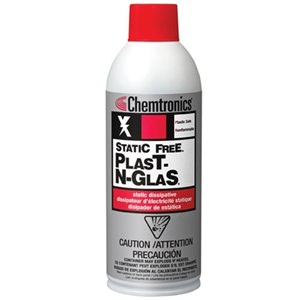 Request a Sample
Your Sample Request
Static Free Plast-N-Glas
*=required field
Static Free Plast-N-Glas
Static Free™ Plast-N-Glas® effectively cleans, polishes and eliminates static charges. A single application dissipates electrostatic buildup while also removing dirt, grease, ink, fingerprints and nicotine stains. Static Free™ Plast-N-Glas® will not streak, smear, scratch, or abrade. Leaves surfaces thoroughly clean for improved optical clarity and distortion-free reading.
Features & Benefits
Controls static, cleans and polishes in one application
Effectively removes handling oils, finger soils and nicotine stains
Prevents attraction of dust and dirt
Compatible with plastics, glass and stainless steel
Foaming spray won't run or drip; ideal for optical surfaces
Not for use on anti-glare coating or mesh screens
Applications
Cleaning computer monitors and housings
Removing handling soils from precision glassware
Maintaining cleanliness of observation windows on production equipment
TDS
MSDS
(ANSI)
SDS (GHS)
Categories
Chemtronics March Promotion
FREE shipping on all orders
Use promo code:
Shipfreemarch
Save Now!