1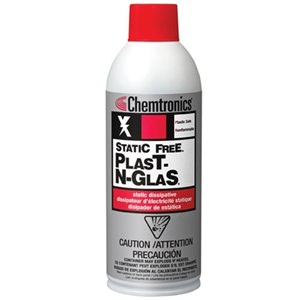 Static Free Plast-N-Glas
Foaming, non-streaking static dissipative cleaner for transparent surfaces
Static Free™ Plast-N-Glas® effectively cleans, polishes and eliminates static charges. A single application dissipates electrostatic buildup while also removing dirt, grease, ink, fingerprints and nicotine stains. Static Free™ Plast-N-Glas® will not streak, smear, scratch, or abrade. Leaves surfaces thoroughly clean for improved optical clarity and distortion-free reading.
Features & Benefits
Controls static, cleans and polishes in one application
Effectively removes handling oils, finger soils and nicotine stains
Prevents attraction of dust and dirt
Compatible with plastics, glass and stainless steel
Foaming spray won't run or drip; ideal for optical surfaces
Not for use on anti-glare coating or mesh screens
Applications
Cleaning computer monitors and housings
Removing handling soils from precision glassware
Maintaining cleanliness of observation windows on production equipment
| | |
| --- | --- |
| Call-outs | General Motors - 00215538 |
| NSN | 793-00-103-94802 |
| Shelf Life | 5 yrs. unopened and 2 yrs. opened |
| Shipping Name | Consumer Commodity ORM-D |
Order from an authorized distributor
FAQ's
How do I figure out the shelf life of a product?
The shelf life of a product can be found on either the technical data sheet (TDS), available on the product page, or by looking on the certificate on conformance (COC). The COC can be downloaded by going to https://www.chemtronics.com/coc. Once you have the shelf life, you will need to add it to the manufacture date for a use-by date. The manufacture date can be identified by the batch number. The batch code used on most of our products are manufacture dates in the Julian Date format. The format is YYDDD, where YY = year, DDD = day. For example, 19200 translates to the 200th day of 2019, or July 19, 2019. This webpage explains and provides charts to help interpret our batch numbers: https://www.chemtronics.com/batch-codes.