Contact Cleaners
Ask us how we can improve your process.
Electrical Contact Cleaner Sprays & Lubricants
A high purity contact cleaner will remove oil, dirt, and other contaminants from metal contacts, circuit breakers, motors, and more. Chemtronics electrical contact cleaners restore continuity to all electronic and electrical contacts. Our deep penetrating lubricant is great for inhibiting corrosion, reducing friction and protecting metal surfaces in one easy step. All contact cleaners are low toxicity.
Choose Your Product
Articles
---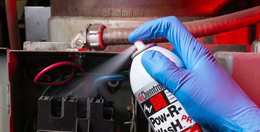 Ultimate Guide to Contact Cleaners
You're getting intermittent issues with your device, so you suspect there's contamination in the electrical contacts. Dust, dirt, grease, and oxidation contamination can increase electrical resistance in contact areas. That means the current flow is potentially reduced or interrupted, affecting ...
Read This Post