7
Pow-R-Wash Cable Cleaner
Extra-strength, plastic safe cable and contact cleaner with moderate evaporation time
Pow-R-Wash™ Cable Cleaner is a high flash point cleaner that quickly removes soils, adhesives, and residues from insulation jackets and conductors on telecom, fiber optic and coaxial cables. Excellent wetting action lifts and removes soils from the tightest tolerance areas. Pow-R-Wash™ Cable Cleaner is also ideal for removing carbonization, oxidized oils and greases from contacts.
Features & Benefits
Extra cleaning strength; cleans encrusted hard-to-remove soils
Safe on plastics
Dielectric Breakdown 62 kV
High flash point
Leaves no residue
Applications
Removes dirt, adhesives, gel and oxidants from cable terminations
Removes oils and grease from equipment and tools, generators, compressors, and mechanical tools of all types
Great for use on metal contacts, potentiometers and fuse blocks
| | |
| --- | --- |
| Shelf Life | 5 yrs. |
| Shipping Name | Consumer Commodity ORM-D |
Order from an authorized distributor
FAQ's
Articles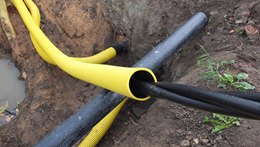 Essential Guide to Cable Cleaning
Running cable can be a messy business, so cleaning is an important consideration for both high voltage and communication cable installations. When the failure point can be in a wall, underground, or hundreds of feet underwater, a high quality installation is particularly important. What follows are ...
Read This Post