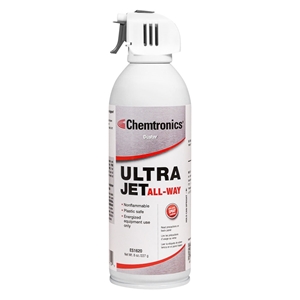 Ultrajet All-Way
Invertible duster with the BIGGEST blast to clean anything fast
Ultrajet® All-Way Duster is a new innovative all-way spray duster with the biggest blast to clean anything fast. This compressed gas duster can be sprayed right-side up and upside down emitting a high pressure blast that cleans electronics without scratching delicate surfaces.
New improved formula with lower global warming. (click link for more info)
Features & Benefits
Nonflammable
Highest powered cleaning strength
Zero VOC
Filtered to 0.2 microns
Leaves no residue
100% ultra-pure HFC-134a
Completely nonflammable
Safe on plastics
Applications
Cleaning fiber optic connectors and bulkheads
Removing particles from mirror assemblies
Removing contamination from sensitive surfaces
| | |
| --- | --- |
| Shelf Life | 10 yrs. |
| Shipping Name | Consumer Commodity ORM-D |
FAQ's
Articles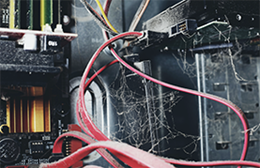 Ultimate Guide to "Canned Air" / Aerosol Dusters
Aerosol Duster, which is commonly referred to as "canned air", "compressed air", and "dusting gas", is used knock dust and dirt loose with a pressurized blast. On a production line, it's not unusual to see compressed air lines dropped for this purpose. While the air is free, compressed air lines are...
Read This Post