CircuitWorks Conductive Pens
8
Request a Sample
Your Sample Request
CircuitWorks Conductive Pens
*=required field
CircuitWorks Conductive Pens
CircuitWorks® Conductive Pens make instant highly conductive silver traces on circuit boards and are used in prototype, rework, and repair of circuit boards by linking components, repairing defective traces, making smooth jumpers. The silver traces of the circuit pen dry in minutes and have excellent adhesion to most electronic materials. Engineers, repair technicians, and manufacturers will find that the CircuitWorks® Conductive Circuit Pen speeds project completion and cuts rework time.
CircuitWorks Conductive Pens are available in 3 types of inks:
Silver Conductive Pen (CW2200STP, CW2200MTP) - Highly conductive and the most popular option. Available with either the standard tip (CW2200STP) or micro tip (CW2200MTP).
Conductivity - 0.02-0.05 ohms/sq/mil
Silver Flex Conductive Pen (CW2900) - Also silver-based, and engineered for flexible PCBs. Only available with the standard tip.
Condictivity - 0.05-0.15 ohms/sq/mil
Nickel Conductive Pen (CW2000) - Lower cost nickel-based ink. Only available with the standard tip.
Conductivity - 1.0 – 1.5 ohms/sq/mil
Features & Benefits
Quickly creates conductive silver traces
Valve pen tip for easy applications
Solderable at low temperatures
Superior electrical conductivity
Dries in minutes at room temperature
Choice of Micro Tip (MTP) for fine lines or Standard Tip (STP) for wider lines
Applications
Repairs traces
Links components
Makes smooth jumpers
Shields electronics
| | |
| --- | --- |
| Shelf Life | 15 mo. |
| Shipping Name | Consumer Commodity ORM-D |
| Specs | ANSI/IPC J STD-001, IPC-7711 |
| NSN | CW2200MTP - 6850-01-506-5662 |
Order from an authorized distributor
FAQ's
Articles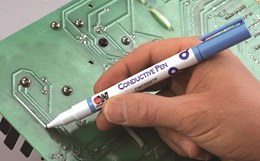 Conductive Pen Tips and Tricks for Best Performance
CircuitWorks Conductive Pens have a wide range of uses, from drawing traces between components on prototype circuit boards, coating components and assemblies to shield them from electrical and radio frequency interference, to repairing broken solder traces on PCBs and broken grid lines on automobile...
Read This Post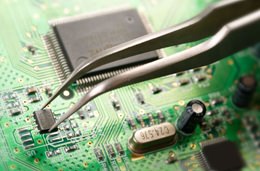 Ultimate Guide to Benchtop PCB Rework & Repair
The reality is that no soldering operation produces perfect assemblies every time. Even the highest quality components fail from time-to-time. That's why understanding the best rework and repair methods and materials is so important for those who manufacture, maintain, or repair printed circuit boar...
Read This Post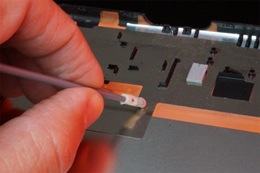 Related Products
CircuitWorks Overcoat Pens
Pen dispenser for precise application of a tough protective acrylic conformal coating