CircuitWorks Lead-Free Pocket Solder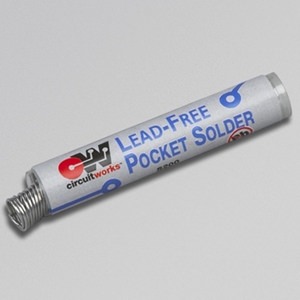 Request a Sample
Your Sample Request
CircuitWorks Lead-Free Pocket Solder
*=required field
CircuitWorks Lead-Free Pocket Solder
CircuitWorks® Lead-Free Pocket Solder is the high-purity pocket-sized solder in a convenient dispenser for rework and repair. This rosin core solder wire is manufactured from the lead-free solder alloy SAC 305. Lead-Free Pocket Solder is easy to use and produces reliable solder joints every time. Its activated pure rosin flux core eliminates troublesome solder voids. Instant wetting action provides thorough deoxidation of metallic surfaces providing the best possible surfaces for soldering.
Features & Benefits
Precision manufactured Lead-Free solder alloy
96.5% Tin (Sn), 3.0% Silver (Ag), 0.5% Copper (CU)
Type ROL0 flux per IPC J-STD-004
Ensures even, reliable solder connections
Cleans and wets heavily tarnished copper surfaces
RoHS Compliant
Applications
Portable SAC 305 alloy, especially for lead-free rework and repair
TDS
MSDS
(ANSI)
SDS (GHS)
Categories
Chemtronics March Promotion
FREE shipping on all orders
Use promo code:
Shipfreemarch
Save Now!