CircuitWorks Lead-Free Pocket Solder
2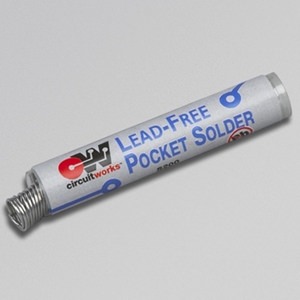 Request a Sample
Your Sample Request
CircuitWorks Lead-Free Pocket Solder
*=required field
CircuitWorks Lead-Free Pocket Solder
CircuitWorks® Lead-Free Pocket Solder is the high-purity pocket-sized solder in a convenient dispenser for rework and repair. This rosin core solder wire is manufactured from the lead-free solder alloy SAC 305. Lead-Free Pocket Solder is easy to use and produces reliable solder joints every time. Its activated pure rosin flux core eliminates troublesome solder voids. Instant wetting action provides thorough deoxidation of metallic surfaces providing the best possible surfaces for soldering.
Features & Benefits
Precision manufactured Lead-Free solder alloy
96.5% Tin (Sn), 3.0% Silver (Ag), 0.5% Copper (CU)
Type ROL0 flux per IPC J-STD-004
Ensures even, reliable solder connections
Cleans and wets heavily tarnished copper surfaces
RoHS Compliant
Applications
Portable SAC 305 alloy, especially for lead-free rework and repair
TDS
MSDS
(ANSI)
SDS (GHS)
Categories
Specifications

IPC J STD-004

ANSI/IPC J STD-001, IPC-7711

Shelf Life
5 yrs.
Shipping Name
Solder N.O.I
Order from an authorized distributor
FAQ's
How do I figure out the shelf life of a product?
The shelf life of a product can be found on either the technical data sheet (TDS), available on the product page, or by looking on the certificate on conformance (COC). The COC can be downloaded by going to https://www.chemtronics.com/coc. Once you have the shelf life, you will need to add it to the manufacture date for a use-by date. The manufacture date can be identified by the batch number. The batch code used on most of our products are manufacture dates in the Julian Date format. The format is YYDDD, where YY = year, DDD = day. For example, 19200 translates to the 200th day of 2019, or July 19, 2019. This webpage explains and provides charts to help interpret our batch numbers: https://www.chemtronics.com/batch-codes.
Articles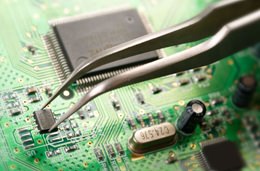 Ultimate Guide to Benchtop PCB Rework & Repair
The reality is that no soldering operation produces perfect assemblies every time. Even the highest quality components fail from time-to-time. That's why understanding the best rework and repair methods and materials is so important for those who manufacture, maintain, or repair printed ci...
Read This Post