11
Flux-Off VZ
Economical, non-ozone depleting, nonflammable flux remover
Flux-Off® VZ Flux Remover is a highly effective cleaner for removing rosin-based fluxes from electronic components and assemblies. The non-ozone depleting Verizane™ solvent system utilizes Vertrel® Specialty Fluid from Dupont® to quickly removes flux without harming sensitive materials.
VERIZANE™ Cleaning Chemistry (VZ) - Chemtronics' most economical line of ozone safe cleaning solutions. Engineered to replace HCFC-141b, these low odor, no flash, nonflammable aerosols offer the most cleaning value for your money.
So ditch the dirt — without blowing your budget!
New improved formula with lower global warming. (click link for more info)
Features & Benefits
Nonflammable
Cleans R, RMA, RA, and no-clean flux
Low odor
Dries fast
Leaves no residue
Test on plastics
All-Way Spray valve - even sprays upside down
Applications
Removal of flux during post soldering applications
Cleaning of printed circuit boards, component leads, and surface mount devices/pads
Screens and stencils
| | |
| --- | --- |
| Shelf Life | 5 yrs. |
| Shipping Name | Consumer Commodity ORM-D |
Order from an authorized distributor
FAQ's
Articles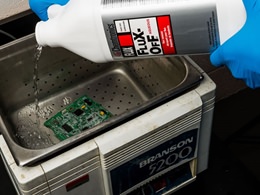 Ultimate Guide to Ultrasonic Cleaning
Cleaning with a combination of a solvent and ultrasonic cleaning equipment is a popular choice when companies in heavy industry, electronics, medical electronics and aerospace industries need to aggressively remove stubborn soils. An ultrasonic cleaning process utilizes equipment to transmit ultraso...
Read This Post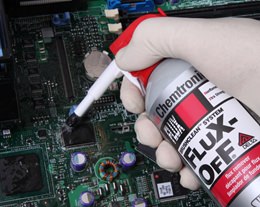 Flux Remover Video User's Guide
Today, I'm going to take you through the best practices for cleaning printed circuit boards with a flux remover. A flux remover cleans off flux left behind after the soldering process. That's important because flux residue can cause corrosion or create what's called "dendrites", which are ionic par...
Read This Post