Electro-Wash NXO Degreaser
11
Request a Sample
Your Sample Request
Electro-Wash NXO Degreaser
*=required field
Electro-Wash NXO Degreaser
Extra-strength, nonflammable cleaner degreaser
Electro Wash® NXO Cleaner/Degreaser is an extra strength, nonflammable degreaser. This high pressure aerosol cleaning agent quickly removes oxide particles, dust, light grease and oil, then evaporates quickly, leaving no residue.
Removes oils, greases, silicones, refrigerant oils, fluxes, adhesives and other common industrial contaminants. Used for cleaning medical instruments, implants and other devices including orthopedic implants, monitoring devices, oxygen and gas lines. This solvent can be used as a carrier fluid like for silicone-based lubricant coatings.
CLICK HERE FOR CLEANER DEGREASER SELECTION GUIDE
Note: As with all vapor degreaser equipment and processes, observe all safety precautions, guidelines and operating rules associated with these units. Failure to do so may put operations personnel at risk. Avoid excessive vapor losses, loss of refrigeration, excessive boil sump heat, etc. Make sure all equipment is operated in accordance with the manufacturer's guidelines and instructions. If in doubt, contact your manufacturer immediately.
Features & Benefits
Nonflammable
Extra cleaning strength
Dries fast
Leaves no residue
Aerosol utilizes All-Way Spray valve; sprays in any direction
May be used on energized equipment.
Applications
Cleans difficult to remove soils from robotic assemblies
Removes cured conformal coatings
Removes oxidized greases
| | |
| --- | --- |
| Shelf Life | 5 yrs. |
| Shipping Name | Cleaning Compound N.O.I |
Order from an authorized distributor
FAQ's
Articles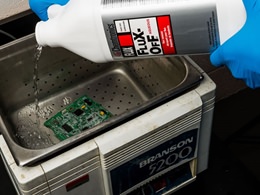 Ultimate Guide to Ultrasonic Cleaning
Cleaning with a combination of a solvent and ultrasonic cleaning equipment is a popular choice when companies in heavy industry, electronics, medical electronics and aerospace industries need to aggressively remove stubborn soils. An ultrasonic cleaning process utilizes equipment to transmit ultraso...
Read This Post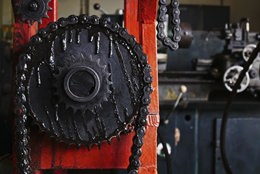 Ultimate Guide to Degreasers & Precision Cleaners
A degreaser (also called precision cleaner, maintenance cleaner, and specific for automotive repair, carb cleaner, brake cleaner) is a solvent or water-based cleaner designed to remove grease, oils, cutting fluids, corrosion inhibitors, handling soils, finger prints, and other contamination common i...
Read This Post