Safe & Powerful Solvents for Vapor Degreasing
Chemtronics offers industrial strength vapor degreaser solvents to tackle the toughest jobs and applications. Vapor degreasing is a cost-effective method of precision cleaning parts, metal, PCBs, and other items. Vapor degreasing requires specialized solvents that are azeotropic. Our full line of solvents cleaners is designed to easily remove oil, grease, wax, flux, and contamination.
Cleaning product is boiled so only pure solvent is sent up in the vapor zone. The solvent then condenses onto the part, providing the cleaning action. For more difficult soils, parts can be submerged into the boil sump, which is often supplemented with ultrasonics. Because this is a closed-loop process, where the cleaner evaporates and condenses over-and-over, a specialized solvent is needed.
How to Select A Vapor Degreaser Solvent: Azeotrope vs. Azeotrope-Like
nPB Replacements for Greater Safety
n-propyl bromide (also known as nPB or 1-Bromopropane, CAS 106-94-5) is under close scrutiny by local and national government officials and health and safety managers because of safety concerns.
Studies have shown that exposure to nPB can cause negative neurological and reproductive effects. The National Toxicology Program (NTP) has stated that nPB is "reasonably anticipated to be a human carcinogen", based on increased lung, large intestine and skin cancers observed in animal studies.
OSHA has issued a Hazard Alert detailing worker safety concerns. The American Conference of Governmental Industrial Hygienists (ACGIH) recommends a 10 ppm time-weighted average threshold limit, but has proposed a lower 0.1 ppm (ACGIH 2013). (Source: OSHA Hazard Alert - https://www.osha.gov/dts/hazardalerts/1bromopropane_hazard_alert.html)
Safety, regulatory and liability concerns are driving the change from nPB, and Chemtronics® has the ideal replacements with Tri-V™ High Performance Solvents. Electro-Wash® Tri-V, Max-Kleen™ Tri-V, and Flux-Off® Tri-V offer the cost and cleaning performance of nPB, but with much greater safety!
Electro-Wash Tri-V Degreaser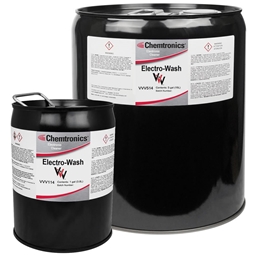 Extra-strength, nonflammable electronics cleaner degreaser for replacing n-propyl bromide
Flux-Off Tri-V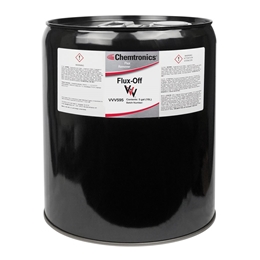 Extra strength, nonflammable flux remover for replacing n-propyl bromide
Max-Kleen Tri-V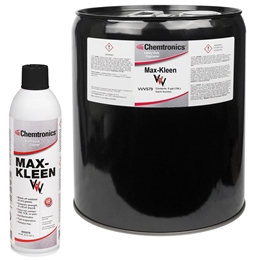 Extra-strength, nonflammable heavy duty electronics cleaner for replacing n-propyl bromide
---
FAQ's
Articles
---