CircuitWorks Conductive Paint
8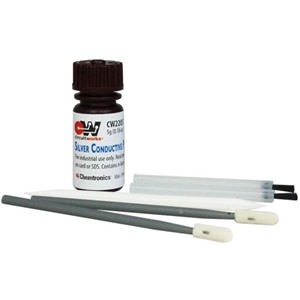 Request a Sample
Your Sample Request
CircuitWorks Conductive Paint
*=required field
CircuitWorks Conductive Paint
CircuitWorks Conductive Paint makes instant highly conductive silver traces on circuit boards.
CircuitWorks Conductive Paint makes instant highly conductive (0.02-0.05 ohms/sq/mil) silver traces on circuit boards and is used in the prototype, rework, and repair of circuit boards by linking components, repairing defective traces, making smooth jumpers and patching EMI shielding. The silver traces dry in minutes and has excellent adhesion to most electronic materials. Engineers, repair technicians, and manufacturers will find that the CircuitWorks Conductive Paint speeds project completion and cuts rework time.
CircuitWorks Conductive Paint comes with a pick, 2 small brushes, and 2 lint-free foam swabs for easy application. The brushes and swabs are ideal for larger areas, like for shielding repair, and the pick allows for precision trace repair.
Cures tack-free in 3 to 5 minutes at room temperature. It achieves electrical conductivity within 30 minutes. Heat cure for 5 minutes at 250°-300°F (120°-150°C) for maximum conductivity, durability, and chemical resistance.
Features & Benefits
Single component system

High electrical conductivity

Fast drying

Highly adherent to circuit boards

Operating temperature to 400

°

F (205

°

C)
APPLICATIONS
Circuit trace repair
Solderless linking of components
EMI shielding
Solderable terminations
Quick prototype modifications
| | |
| --- | --- |
| Shelf Life | 15 mo. |
| Shipping Name | Consumer Commodity ORM-D |
| Specs | ANSI/IPC J STD-001, IPC-7711 |
Order from an authorized distributor
FAQ's
Articles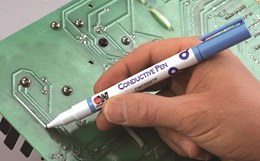 Conductive Pen Tips and Tricks for Best Performance
CircuitWorks Conductive Pens have a wide range of uses, from drawing traces between components on prototype circuit boards, coating components and assemblies to shield them from electrical and radio frequency interference, to repairing broken solder traces on PCBs and broken grid lines on automobile...
Read This Post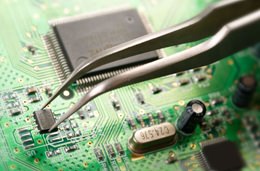 Ultimate Guide to Benchtop PCB Rework & Repair
The reality is that no soldering operation produces perfect assemblies every time. Even the highest quality components fail from time-to-time. That's why understanding the best rework and repair methods and materials is so important for those who manufacture, maintain, or repair printed circuit boar...
Read This Post