Konform® AR Acrylic Conformal Coating
11
Request a Sample
Your Sample Request
Konform® AR Acrylic Conformal Coating
*=required field
Konform® AR Acrylic Conformal Coating
Konform® AR is ideal for providing insulation against high-voltage arcing and corona shorts. This extremely effective acrylic conformal coating provides a hard, durable protective barrier against humidity, salt, corrosive vapors and fungus for printed circuit board and electronic assemblies. Konform® AR resin meets MIL-I-46058C, Type AR.
Features & Benefits
Acrylic coating working temperature from -75°F/-59°C to 279°F/137°C
High dielectric strength of 8300 volts/mil
Meets Mil-I-46058C, Type AR
Compliant to IPC-CC-830A
RoHS Compliant
Provides excellent acid resistance
Will not discolor over time under normal use
Easily repairable
Contains a UV indicator for thorough Quality Control inspection
UL Recognized, File E76307
Applications
Extends component life by protecting against adverse environments
Resists moisture, salt, fungus, corrosive vapors, and severe environments
Designed to provide effective insulation against electrical shorts and harsh environments
Specifications
MIL-I-46058C Type AR, IPC-CC-830A,UL Recognized
NSN

CTAR-1 - 5970-01-417-4156

CTAR-12 - 5970-01-417-4158

Shelf Life
2 yrs.
Shipping Name
Coating Solution
Order from an authorized distributor
FAQ's
Articles
The Ultimate Guide to Conformal Coating
Historically, the only circuit boards going through a conformal coating process were for mission-critical applications, like aerospace. The trend toward greater and greater electronic miniaturization and wearable electronics (PCB + electricity + sweat = problems) has led to a higher demand for the p...
Read This Post
How To Evaluate The Best Silicone Conformal Coating
2018 was a rough year for PCB assemblers who use silicone conformal coating. Many EMS buyers of silicone conformal coating have experienced shortages, with lead times going from days to weeks, then even to months. All the while, prices have started to skyrocket. Many engineers specify legacy sili...
Read This Post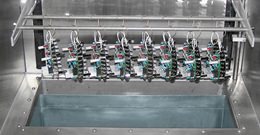 8 Essential Tips for Conformal Coating Dip Application
For those of you considering dip application in your conformal coating process, the following are general guidelines to bear in mind when exploring this application method. There are a number of variations of dip coating of PCBs. The most basic is the manual, by hand method. The...
Read This Post
Konform® SR-X Silicone Conformal Coating
One-part, clear conformal coating with moisture, corrosion and abrasion resistance