2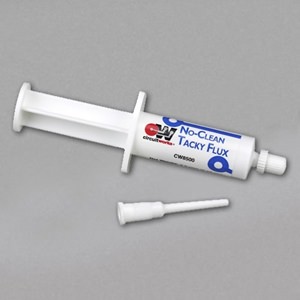 Request a Sample
Your Sample Request
CircuitWorks Tacky Flux
*=required field
CircuitWorks Tacky Flux
CircuitWorks® Tacky Flux is a Type ROL0 formulation designed for BGA rework requiring high-reliability, stability and cleanliness. CircuitWorks Tacky Flux gel composition holds the BGA component in position even with board movement. Its lower viscosity allows easy application and contains no ionic material. CircuitWorks Tacky Flux is suitable for clean room applications.
CircuitWorks Lead-Free Flux is very similar to No-Clean Tacky Flux, but specifically formulated for the higher temperature requirements of lead free applications.
Features & Benefits
Syringe applicator provides exact delivery of flux to surface
Long tack time, extended shelf life
No refrigeration required
Excellent consistency with stable viscosity
Noncorrosive, halide and halogen free
Meets IPC requirements for ROL0, No Clean
Conforms to ISO 9454
Meets Bellcore TR-NWT-000078 requirements
Meets DIN EN 29454-1 1.1.3.C classification
RoHS Compliant
Applications
Automated BGA applications
TDS
MSDS
(ANSI)
SDS (GHS)
Categories
| | |
| --- | --- |
| Specifications | ISO 9454, Bellcore TR-NWT-000078, DIN EN 29454-1 1.1.3.C Classification |
| Shelf Life | 2 yrs. |
| Shipping Name | Adhesives N.O.I |
Articles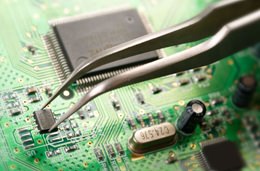 Ultimate Guide to Benchtop PCB Rework & Repair
The reality is that no soldering operation produces perfect assemblies every time. Even the highest quality components fail from time-to-time. That's why understanding the best rework and repair methods and materials is so important for those who manufacture, maintain, or repair printed ci...
Read This Post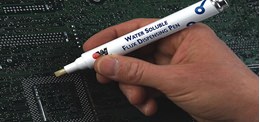 Why Flux Pens Make PCB Repair Easier
Flux is needed to prevent oxidation that tends to form when hot metals come in contact with the air. During printed circuit board repair and soldering, it's common to see liquid flux from the wave soldering equipment poured into jars and applied with an acid brush. More is better, right?...
Read This Post
Order from an authorized distributor