Electro-Wash VZ Degreaser
5
Electro-Wash VZ Degreaser
VERIZANE™ Cleaning Chemistry (VZ) - Chemtronics' most economical line of nonflammable cleaning solutions. Engineered to replace HCFC-141b, these low odor, no flash, nonflammable aerosols offer the most cleaning value for your money. So ditch the dirt — without blowing your budget!
Features & Benefits
Nonflammable
One cleaner for all soil types
Low odor
Evaporates quickly without leaving residue
Penetrates to clean hard to reach areas
All-Way Spray valve; sprays in any direction
Applications
Cleaning printed circuit boards and control systems
Maintaining Programmable Logic Controllers (PLCs)
Removing oils from pneumatic and hydraulic assemblies
TDS
MSDS
(ANSI)
SDS (GHS)
Categories
| | |
| --- | --- |
| Shelf Life | 5 yrs. |
| Shipping Name | Consumer Commodity ORM-D |
Order from an authorized distributor
FAQ's
Is there something I can do with the extension tube (straw) so it doesn't get lost?
The red cap on Chemtronics aerosol products like flux removers, degreasers, and Freeze-It Freeze Spray has a notch on the top. That is engineered for the straw to snap in and hold into place so you don't loose it. The aerosol trigger sprayers that are common on dusters, freeze sprays, and flux removers, have two ways to store the straw when not in use. The hole at the back of the body of the sprayer is just the right size for the straw to slide into place for storage. The slot below the trigger is also the right size for the straw to snap into place, which also has the advantage of locking the trigger.
How do I figure out the shelf life of a product?
The shelf life of a product can be found on either the technical data sheet (TDS), available on the product page, or by looking on the certificate on conformance (COC). The COC can be downloaded by going to https://www.chemtronics.com/coc. Once you have the shelf life, you will need to add it to the manufacture date for a use-by date. The manufacture date can be identified by the batch number. The batch code used on most of our products are manufacture dates in the Julian Date format. The format is YYDDD, where YY = year, DDD = day. For example, 19200 translates to the 200th day of 2019, or July 19, 2019. This webpage explains and provides charts to help interpret our batch numbers: https://www.chemtronics.com/batch-codes.
Should I use gloves when using a degreaser?
Yes, it is a good idea to use gloves when degreasing. The solvents used in degreasers do a great job at breaking down greases and oils, which also happen to exist in health skin. If your hands are exposed to a degreasing solvent for enough time, oils will be drawn from your skin leading to "defattening". Your skin will become very dry and you could eventually develop dermatitis, which looks more like a rash. In addition, some solvents like N-Propyl Bromide (nPB), Trichloroethylene (TCE) and Perchloroethylene (Perc) are highly toxic, so can be absorbed through the skin and cause issues like cancer, or impact liver or kidney function. Please wear gloves and other PPE as required.
Articles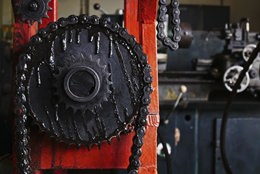 Ultimate Guide to Degreasers & Precision Cleaners
What is a degreaser? A degreaser (also called precision cleaner, maintenance cleaner, and specific for automotive repair, carb cleaner, brake cleaner) is a solvent or water-based cleaner designed to remove grease, oils, cutting fluids, corrosion inhibitors, handling soils, finger prints, and othe...
Read This Post