10
Flux-Off Heavy Duty
Heavy-duty flux remover spray for removing encrusted no-clean and rosin flux
Flux-Off® Heavy Duty is an excellent cleaner for the removal of all rosin and no clean flux types from electronic sub-assemblies, printed circuit boards and all other electronic components. Flux-Off® Heavy Duty will remove the toughest deposits of organic flux, soldering oils and organic handling oils. Flux-Off® Heavy Duty will also effectively remove other contaminants such as dirt, grease, and molding compounds.
CLICK HERE FOR FLUX REMOVER SELECTION GUIDE
Note: As with all vapor degreaser equipment and processes, observe all safety precautions, guidelines and operating rules associated with these units. Failure to do so may put operations personnel at risk. Avoid excessive vapor losses, loss of refrigeration, excessive boil sump heat, etc. Make sure all equipment is operated in accordance with the manufacturer's guidelines and instructions. If in doubt, contact your manufacturer immediately.
Features & Benefits
Nonflammable
Quickly removes all rosin and no clean flux types
Removes encrusted, hard, baked fluxes
Dries fast
Leaves no residue
Noncorrosive
All-Way Spray valve - even sprays upside down
NSN# 6850-00-602-2347
Applications
Ideal nonflammable solution for removing encrusted no-clean and rosin flux
| | |
| --- | --- |
| Specifications | NSN# 6850-00-602-2347 |
| Shelf Life | 2 yrs After Opened |
| Shipping Name | Cleaning Compound N.O.I |
Order from an authorized distributor
FAQ's
Articles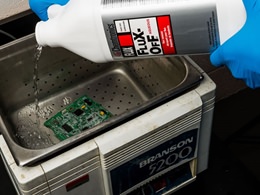 Ultimate Guide to Ultrasonic Cleaning
Cleaning with a combination of a solvent and ultrasonic cleaning equipment is a popular choice when companies in heavy industry, electronics, medical electronics and aerospace industries need to aggressively remove stubborn soils. An ultrasonic cleaning process utilizes equipment to transmit ultraso...
Read This Post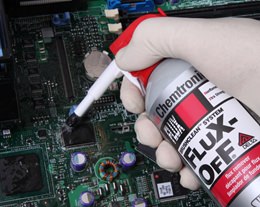 Flux Remover Video User's Guide
Today, I'm going to take you through the best practices for cleaning printed circuit boards with a flux remover. A flux remover cleans off flux left behind after the soldering process. That's important because flux residue can cause corrosion or create what's called "dendrites", which are ionic par...
Read This Post