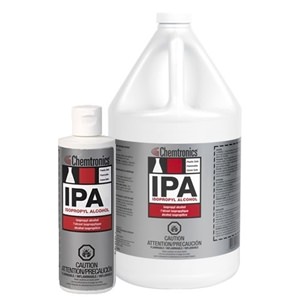 IPA - Isopropyl Alcohol
IPA – Isopropyl Alcohol is a highly effective, general use cleaning solvent that is used to clean a variety of substrates and remove a variety of soils. This 99% isopropyl alcohol is available in a variety of sizes for all types of use. Technical grade isopropyl alcohol.
---
Because of the spike in demand due to COVID-19 (Novel Coronavirus), isopropyl alcohol products will be in short supply for the foreseeable future. In the interim, these products will not be offered for sale directly from this website, and samples are not available for testing.
For electronic assembly and rework and for industrial degreasing, click here for product alternatives that are readily available. Please note these products do not have antiviral properties.
Features & Benefits
Safe on plastics
Flammable
Dries fast
Leaves no residue
Extends life – reduces head wear and improves performance
Use with Chamois Tips™ Swabs, and all other Chemtronics® Swabs and Wipes
Applications
Improves performance while extending the life of the equipment and recorded media
Easily removes interfering soils from optical heads
Quickly removes dampening residues from magnetic heads
TDS
MSDS
(ANSI)
SDS (GHS)
Categories
| | |
| --- | --- |
| Shelf Life | 5 yrs. unopened and 2 yrs. opened |
| Shipping Name | Coating Compound Not Regulated |
Articles
Order from an Authorized Distributor