6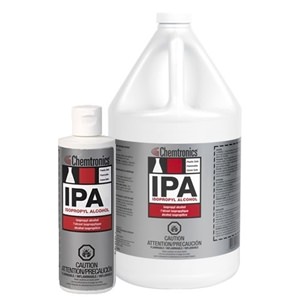 IPA - Isopropyl Alcohol
IPA – Isopropyl Alcohol is a highly effective, general use cleaning solvent that is used to clean a variety of substrates and remove a variety of soils. This 99% isopropyl alcohol is available in a variety of sizes for all types of use. Technical grade isopropyl alcohol.
---
For electronic assembly and rework and for industrial degreasing, click here for product alternatives that are readily available. Please note these products do not have antiviral properties.
Features & Benefits
Safe on plastics
Flammable
Dries fast
Leaves no residue
Extends life – reduces head wear and improves performance
Use with Chamois Tips™ Swabs, and all other Chemtronics® Swabs and Wipes
Applications
Improves performance while extending the life of the equipment and recorded media
Easily removes interfering soils from optical heads
Quickly removes dampening residues from magnetic heads
TDS
MSDS
(ANSI)
SDS (GHS)
Categories
| | |
| --- | --- |
| NSN | ES105 - 6810-00-286-5435 |
| Shelf Life | 5 yrs. unopened and 2 yrs. opened |
| Shipping Name | Coating Compound Not Regulated |
Order from an authorized distributor
FAQ's
How do I figure out the shelf life of a product?
The shelf life of a product can be found on either the technical data sheet (TDS), available on the product page, or by looking on the certificate on conformance (COC). The COC can be downloaded by going to https://www.chemtronics.com/coc. Once you have the shelf life, you will need to add it to the manufacture date for a use-by date. The manufacture date can be identified by the batch number. The batch code used on most of our products are manufacture dates in the Julian Date format. The format is YYDDD, where YY = year, DDD = day. For example, 19200 translates to the 200th day of 2019, or July 19, 2019. This webpage explains and provides charts to help interpret our batch numbers: https://www.chemtronics.com/batch-codes.
Should I use gloves when using a degreaser?
Yes, it is a good idea to use gloves when degreasing. The solvents used in degreasers do a great job at breaking down greases and oils, which also happen to exist in health skin. If your hands are exposed to a degreasing solvent for enough time, oils will be drawn from your skin leading to "defattening". Your skin will become very dry and you could eventually develop dermatitis, which looks more like a rash. In addition, some solvents like N-Propyl Bromide (nPB), Trichloroethylene (TCE) and Perchloroethylene (Perc) are highly toxic, so can be absorbed through the skin and cause issues like cancer, or impact liver or kidney function. Please wear gloves and other PPE as required.
Articles