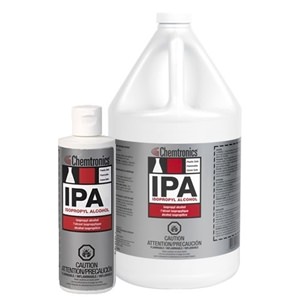 Request a Sample
Your Sample Request
IPA - Isopropyl Alcohol
*=required field
IPA - Isopropyl Alcohol
IPA – Isopropyl Alcohol is a highly effective, general use cleaning solvent that is used to clean a variety of substrates and remove a variety of soils. This 99% isopropyl alcohol is available in a variety of sizes for all types of use. Technical grade isopropyl alcohol.
Features & Benefits
Safe on plastics
Flammable
Dries fast
Leaves no residue
Extends life – reduces head wear and improves performance
Use with Chamois Tips™ Swabs, and all other Chemtronics® Swabs and Wipes
Applications
Improves performance while extending the life of the equipment and recorded media
Easily removes interfering soils from optical heads
Quickly removes dampening residues from magnetic heads
Chemtronics March Promotion
FREE shipping on all orders
Use promo code:
Shipfreemarch
Save Now!