8
Flux-Off Rosin
The Flux-Off® Rosin formulation is a fast drying aerosol that quickly and completely removes R, RMA, RA, and synthetic flux residue. With its low surface tension and superior wetting properties, Flux-Off® Rosin removes harmful residues in tight tolerance areas.
Available with The BrushClean™ System - Gentle scrubbing action of a brush combined with high performance flux remover. Click here for more information.
Features & Benefits
Safe on plastics
Removes all rosin-based fluxes
Removes ionic and non-ionic activators
Dries fast
Leaves no residue
Flammable
All-Way Spray valve - even sprays upside down
Available with BrushClean™ System
Applications
Cleans type R, RMA, RA and Rosin-based no-clean flux
| | |
| --- | --- |
| Specifications | NSN # 6850-01-418-0499 |
| Call-outs | Ford - 134352 |
| Shelf Life | 5 yrs. |
| Shipping Name | Consumer Commodity ORM-D |
Order from an authorized distributor
FAQ's
Articles
Flux Remover Video User's Guide
Flux Remover Video User Guide CLEAN WITH OVERALL SPRAY | CLEAN WITH EXTENSION TUBE / STRAW | CLEAN WITH BRUSH ATTACHMENT Flux removers are used to clean flux off printed circuit boards (PCBs), which is left behind after the soldering process.&nbs...
Read This Post
Ultimate Guide to Cleaning Electronics
In the process of assembling, reworking or repairing printed circuit boards (PCB) for electronic devices, the discussion inevitably turns to whether or not to clean the PCB. Cleaning adds time and expense to the process, and doing it wrong can cause more harm than good. This guide will walk yo...
Read This Post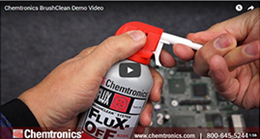 Spot Cleaning Flux Residues Using BrushClean™ System
Spot Cleaning Solder Flux Residues Using BrushClean™ System Chemtronics® manufactures a large variety Flux-Off® brand solder flux residue removers to satisfy many different requirements, for example if the cleaner needs to be nonflammable, safe on sensitive plastics, or have ex...
Read This Post