CircuitWorks Flux Remover Pens
1
Request a Sample
Your Sample Request
CircuitWorks Flux Remover Pens
*=required field
CircuitWorks Flux Remover Pens
CircuitWorks® Flux Remover Pens are designed specifically to remove each type of flux:
Rosin Flux Remover Pen quickly cleans type R, RMA, and RA flux residues.
No Clean Flux Remover Pen precisely removes both organic and synthetic low solid no clean fluxes.
Lead-Free Flux Remover Pen quickly cleans type R, RMA, and RA rosin flux residues as well as organic and synthetic no clean fluxes used in higher heat lead-free applications.
Features & Benefits
Completely removes flux in seconds
Spot cleans tight tolerance areas on circuit boards
Marker dispenser provides controlled spot cleaning
Dries fast
TDS
MSDS
(ANSI)
SDS (GHS)
Categories
| | |
| --- | --- |
| Shelf Life | 5 yrs. |
| Shipping Name | Consumer Commodity ORM-D |
Articles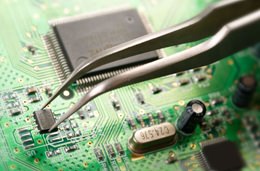 Ultimate Guide to Benchtop PCB Rework & Repair
The reality is that no soldering operation produces perfect assemblies every time. Even the highest quality components fail from time-to-time. That's why understanding the best rework and repair methods and materials is so important for those who manufacture, maintain, or repair printed ci...
Read This Post
Order from an authorized distributor