Wipes
---
Coventry™ cleanroom wipes keep contamination out of your process, improve yield, and perform consistently, shipment to shipment. To manufacture a Coventry swab, we start with engineered clean materials. Polyester materials are laundered first in our Class 10 (ISO Class 4) cleanroom.

Chemtronics® dry wipes are engineered and manufactured clean. They are designed for controlled environments, light industrial, benchtop, laboratory, and high absorbency applications. They feature high absorbency, low contamination, high-purity, and little or no linting.
Choose Your Product
---
Articles
---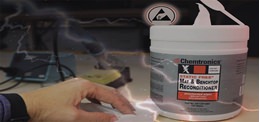 Try Our New Static Free Mat & Benchtop Reconditioner Wipes
Cleans and Rejuvenates ESD-Safe Surfaces Chemtronics Static Free™ products are engineered to protect electronic equipment and workspaces from static buildup while cleaning and reconditioning. These products provide everything required for a comprehensive surface treatment program as recomm...
Read This Post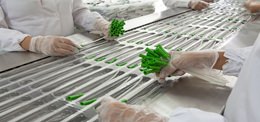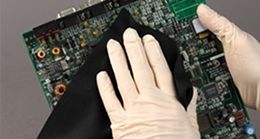 Using Black Polyester Cleanroom Wipes: Is It Really Clean?
Coventry Cleanroom Products The whole point of wiping a surface with a cleanroom wipe is to remove contaminants including dust, dirt, oil, greases, soot, getting the flux off and so on. But, after wiping, how clean is the surface? How can it be guaranteed? How can an operator or quality inspec...
Read This Post