Request a Sample
Your Sample Request
Static Free Hand Guard
*=required field
Static Free Hand Guard
Static Free™ Hand Guard™ penetrates deeply to moisten and refresh dry, irritated skin exposed to heat, abrasives, or harsh chemicals. Static Free™ Hand Guard™ is specially formulated for electronic technicians to use as a non-contaminating hand and body lotion. It reduces static build-up on hands while preventing harmful electrostatic discharge during the handling of sensitive devices. Static Free™ Hand Guard™ quickly soothes and protects tender, chapped or irritated skin without the use of lanolin, silicone, or mineral oils that may inhibit solderability of printed circuits and components.
Features & Benefits
Special formulation minimizes potential for static damage
Penetrates deeply to moisten and refresh dry, chapped or chemically irritated skin
Non-greasy formula contains Aloe Vera and Vitamin E
Contains no lanolin, silicone or mineral oil that could inhibit solderability of printed circuits or components
Applications
Protecting and rejuvenating hands from harsh environmental stress
Protecting circuits from destructive electrostatic discharge
TDS
MSDS
(ANSI)
SDS (GHS)
Categories
| | |
| --- | --- |
| Specifications | IPC-ESD-20-20, MIL-STD-1686C,MIL-HDBK-263B |
| Shelf Life | 5 yrs. |
| Shipping Name | Cleaning Compound N.O.I |
Articles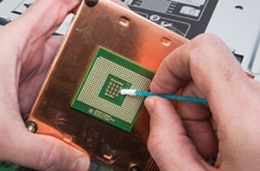 ESD Safe Swabs Prevent Shocking PCB Failures
Swabs are useful precision tools for technicians and operators to perform delicate and meticulous tasks like precision cleaning, repair, and assembly. The types of swabs can range from low-cost cotton buds on a wooden stick to highly engineered cleanroom woven material with a specialized head shape....
Read This Post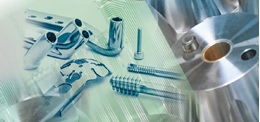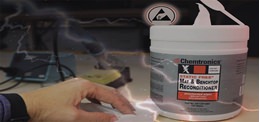 Try Our New Static Free Mat & Benchtop Reconditioner Wipes
Cleans and Rejuvenates ESD-Safe Surfaces Chemtronics Static Free™ products are engineered to protect electronic equipment and workspaces from static buildup while cleaning and reconditioning. These products provide everything required for a comprehensive surface treatment program as recomm...
Read This Post