CircuitWorks Overcoat Pens
9
Request a Sample
Your Sample Request
CircuitWorks Overcoat Pens
*=required field
CircuitWorks Overcoat Pens
CircuitWorks® Overcoat Pen is ideal for protecting and insulating circuit board traces, components, and other delicate electronics. This highly effective acrylic conformal coating provides excellent protection against shorts, moisture, abrasion, fungus, and other environmental hazards. Allows for easy repair of solder mask in prototype, manufacture and repair of circuit boards.
Features & Benefits
Simple to use, single component system
Hard, durable coating
High dielectric strength helps prevent electrical discharge
Dries quickly at room temperature
Protects against moisture and abrasion damage
Meets requirements of MIL-I-46058C and IPC-CC-830A
Applications
Insulates and protects conductive pen traces
Repairs permanent solder mask
Prevents shorting and arcing
Specifications

IPC-CC-830A, MIL-I-46058C, Type AR

ANSI/IPC J STD-001, IPC-7711

Shelf Life
2 yrs.
Shipping Name
Consumer Commodity ORM-D
Order from an authorized distributor
FAQ's
Articles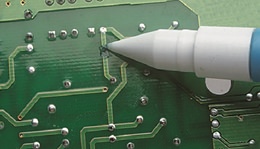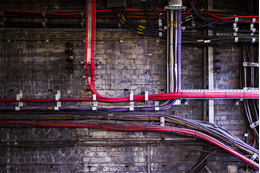 Overcoat Pen Can Lock Together Connector and Lock Out Moisture
The electronics industry has long used 'gold finger protectants' to reduce this wear. These lubricants are administered by a pen or swab tool and do not float or freeze. Hybrid electrical and fiber optic connectors are only some of the esoteric designs that include TFOCA-II, DOD 'football ferrules' ...
Read This Post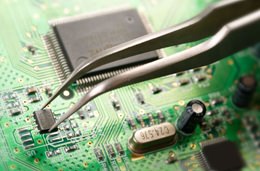 Ultimate Guide to Benchtop PCB Rework & Repair
The reality is that no soldering operation produces perfect assemblies every time. Even the highest quality components fail from time-to-time. That's why understanding the best rework and repair methods and materials is so important for those who manufacture, maintain, or repair printed circuit boar...
Read This Post