CircuitWorks Conformal Coating Remover Pen
1
Request a Sample
Your Sample Request
CircuitWorks Conformal Coating Remover Pen
*=required field
CircuitWorks Conformal Coating Remover Pen
CircuitWorks® Conformal Coating Remover Pen allows for quick, convenient and precise spot removal of most types of conformal coatings in seconds. The solvent evaporates quickly and provides low surface tension for superior wetting.
Features & Benefits
Spot cleans tight tolerance areas on circuit boards
Marker dispenser provides controlled and exact application
Evaporates quickly
Provides low surface tension for superior wetting
Low VOC content
TDS
MSDS
(ANSI)
SDS (GHS)
Categories
| | |
| --- | --- |
| Shelf Life | 5 yrs. |
| Shipping Name | Consumer Commodity ORM-D |
Articles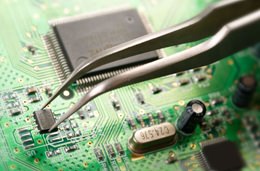 Ultimate Guide to Benchtop PCB Rework & Repair
The reality is that no soldering operation produces perfect assemblies every time. Even the highest quality components fail from time-to-time. That's why understanding the best rework and repair methods and materials is so important for those who manufacture, maintain, or repair printed ci...
Read This Post
Order from an authorized distributor