Electro-Wash Two Step Degreaser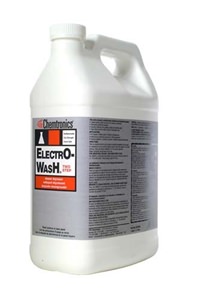 Request a Sample
Your Sample Request
Electro-Wash Two Step Degreaser
*=required field
Electro-Wash Two Step Degreaser
Electro-Wash® Two Step is a heavy duty, nonflammable, hot or cold immersion cleaner designed to remove everything from conformal coatings to all flux residues. Simply increase the temperature of the solution, increase the dwell time of the part being cleaned, and Electro-Wash® Two Step will remove the toughest contaminants. Electro-Wash® Two Stepis easily rinsed away with water or solvent, wiped away or hot air dried, leaving the surface free of all residue.
Features & Benefits
Cleans and brightens solder joints
Removes heavy oil and dirt deposits from metal parts
Removes all types of flux residues
Removes SR, UR, AR conformal coating
Miscible with water
High flash point
Low odor
May be used in ultrasonic cleaner
Increasing temperature increases solvency
Leaves no residue when rinsed with Electro-Wash PX or Electro-Wash CZ


Applications
Removes solder pastes from stencils and screens
Removes cured conformal coatings
Removes No-Clean residues
Cleans reflow ovens
TDS
MSDS
(ANSI)
SDS (GHS)
Categories
Chemtronics March Promotion
FREE shipping on all orders
Use promo code:
Shipfreemarch
Save Now!