Cottontip Swabs
The Cottontips™ Swab consists of cotton fibers which are tightly wrapped around a wooden handle. Because of the tightly wrapped head, there is very little linting. These cotton swabs have excellent absorbency, as well as high strength especially when saturated with water. This cotton swab is designed for cleaning applications where absorbency is critical.
CLICK HERE FOR SWAB SELECTION GUIDE
Features & Benefits
Single headed or Double headed swabs
Soft, highly absorbent
Compatible with most solvents
100% pure pharmaceutical grade bleached white cotton head
Applications
Cleaning surfaces, removing flux residues, removing contaminants
Applying oils, adhesives, fluxes and lubricants
FAQ's
Are Q-tips / cotton bud swabs lint free?
No, cotton bud swabs (aka Q-tips) can't be considered lint-free. Cotton tends to lead behind threads and particulates. Open cell polyurethane foam swabs are a common, very clean replacement for cotton. If harsh solvents are being used on the swabs, or even more cleanliness is needed, knit polyester or microfiber swabs are an excellent choice.
Articles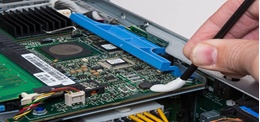 Choosing the Best Swab for Aggressive Solvents
In precision cleaning applications, swabs can be used on their own to remove contamination. However, more often swabs are used together with a solvent to remove contamination. The success of the cleaning effort depends in part on the compatibility between the swab and the cleaning solvent. Using th...
Read This Post