Chemtronics Introduces an Expanded Line of Coventry ESD-Safe Swabs
Coventry™ Static Dissipative Swabs have been engineered to eliminate static electricity concerns when cleaning, reworking or repairing sensitive electronics. The swabs are cleanroom ready, so ideal in critical environments like aerospace and life science applications.
The proprietary handle material has surface resistivity of 1.0 x 1010 ohms/sq, and will dissipate 99% of (5 kV) charge in 0.5 seconds. This avoids static generation, and can dissipate a charge when the user is grounded. There is no humidity dependency, so the handles remain in that dissipative range whether used in an RH (relative humidity) of 0% desert conditions or 100% tropical environment. The handle material is very resistant to all commonly used solvents, including IPA, acetone, other harsh solvents commonly used in coatings and adhesives.
The swabs are constructed from low contaminating materials that do not leave behind ionic material, amines, amides, silicone, nonvolatile residue, and particulate contamination.

A huge variety of head shapes and materials are available to fit any application requirement: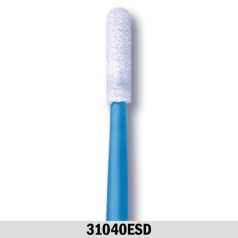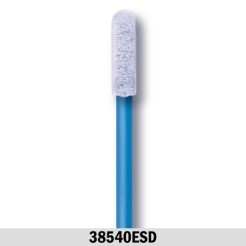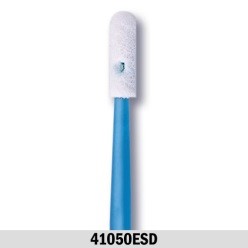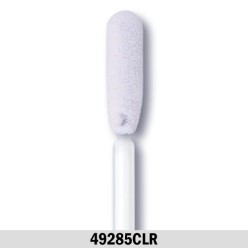 Sealed Fabric ESD Swabs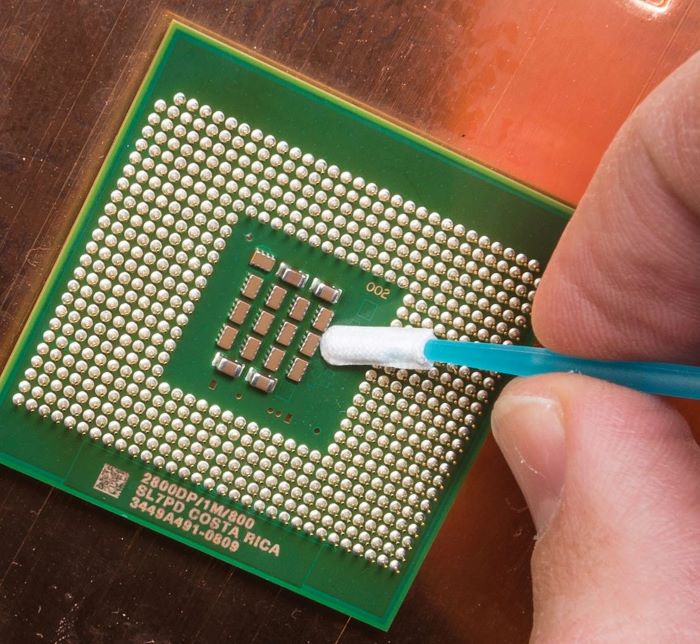 These swabs are ideal in applications that require ultra-low ionic, nonvolatile residue, and particle contamination. Fabric swab heads are made of class 10 (ISO Class 4) laundered, sealed polyester. The polyester material has excellent strength and solvent compatibility, and is compatible with all common solvents including ketones, toluene, dilute or weak acids. The woven polyester does not generate loose fibers or particles, and the head is thermoformed and welded to the handle, which avoids contamination from adhesives and binders.
Polyester Pillow-Tip Swabs have all the advantages of our other polyester fabric swabs, but also have a no-edge seamless head design. This allows the swab head to have a 180° cleaning surface, without any blind spots. Since the polyester fabric material is folded and wrapped, the swab head has exceptionally high solvent capacity.
Sealed Foam ESD Swabs
Sealed foam swabs have heads covered with 100 pore-per-inch ultraclean, medical-grade polyurethane foam. The foam's cell structure traps surface particles while cleaning and has high solvent capacity. The fiberless construction does not generate loose fibers or particles. Foam is thermally bonded to the swabs, which avoids contamination from adhesives and binders. Foam swabs are compatible with common cleaning solvents like isopropyl acohol (IPA), but are not typically recommended for use with harsh solvents like acetone or MEK.
Wrapped Foam ESD Swab
The same foam in our other foam swabs, with all the same advantages, is wrapped around a sturdy pick handle. This allows for a 180° cleaning surface area without blind spots. It also has excellent wicking action, drawing soils and solvent away from surfaces.
Click here for more information or contact us at 770-424-4888 or info@itwcce.com to order an ESD swab sample pack.
New Products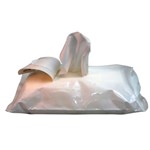 Coventry Hi-Purity Alcohol Wipes – Econowipes
Semicon grade IPA wipes for lab and workstation cleaning
FOCCUS CCT Clear Connection Tool
Easy to use tool for fast and effective end-face cleaning of fiber connectors