Coventry™ 12857 Nonflammable Swelling Solvent and Cleaner
3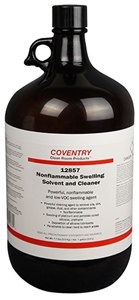 Request a Sample
Your Sample Request
Coventry™ 12857 Nonflammable Swelling Solvent and Cleaner
*=required field
Coventry™ 12857 Nonflammable Swelling Solvent and Cleaner
Coventry™ 12857 Nonflammable Swelling Solvent and Cleaner is a low-VOC, nonflammable solution developed for safely swelling silicone near sensitive plastics. It is also effective at quickly removing oils, dirt, dust, and other contaminants from hybrid surfaces and assemblies. This high-purity solvent was developed for swelling silicone elastomers and tubing for fitment onto components while in proximity to titanium, PEEK and stainless materials without harming any of the materials. The solvent then evaporates allowing the elastomer to shrink back to its original dimensions. Utilizing novel VOC replacement chemistry that does not contain any hazardous air pollutants or ozone-depleting compounds, this material provides the swelling and cleaning strength required for the most difficult jobs.
Coventry™ 12857 Nonflammable Swelling Solvent and Cleaner is used to clean and prepare a variety of surfaces within critical environments:
• Swelling elastomers
• Carrier fluid for depositing silicone lubricants
• Cleaning
• Extraction
• Drying agent
Features & Benefits
Swelling of platinum and peroxide cured silicone, urethane
Safe and noncorrosive on sensitive plastics, titanium, PEEK and stainless materials
Powerful cleaning agent to remove oils, dirt, grease, dust, and other contaminants
Nonflammable
Penetrates to clean hard to reach areas
Evaporates quickly and leaves no residues, minimizes process time
Order from an authorized distributor
FAQ's
How do I figure out the shelf life of a product?
The shelf life of a product can be found on either the technical data sheet (TDS), available on the product page, or by looking on the certificate on conformance (COC). The COC can be downloaded by going to https://www.chemtronics.com/coc. Once you have the shelf life, you will need to add it to the manufacture date for a use-by date. The manufacture date can be identified by the batch number. The batch code used on most of our products are manufacture dates in the Julian Date format. The format is YYDDD, where YY = year, DDD = day. For example, 19200 translates to the 200th day of 2019, or July 19, 2019. This webpage explains and provides charts to help interpret our batch numbers: https://www.chemtronics.com/batch-codes.
Articles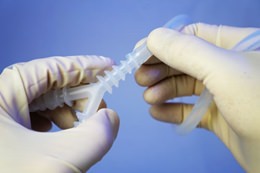 Video Demo: Coventry Medical Flexible Tubing Swelling Agents
Coventry is known globally for solving the most critical application challenges. Our high purity swelling solvents offer medical equipment manufacturers an innovative way to efficiently secure tubing onto connectors. Coventry swelling agents provide a cleaner, faster and easier bonding method tha...
Read This Post