Chemtronics Low Lint Cottontip Swabs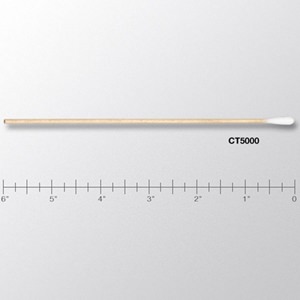 Request a Sample
Your Sample Request
Chemtronics Low Lint Cottontip Swabs
*=required field
Chemtronics Low Lint Cottontip Swabs
The Cottontips™ Low Lint Cotton Swab consists of cotton fibers which are tightly wrapped around a wooden handle. Special low lint cotton fibers and the tightly wrapped head, contribute to extremely low linting and particulate generation. These cotton swabs have excellent absorbency, as well as high strength especially when saturated with water. This swab is designed for cleaning applications where absorbency is critical.
CLICK HERE FOR SWAB SELECTION GUIDE
Features & Benefits
100% pure pharmaceutical grade bleached white cotton
Extra soft and highly absorbent
Compatible with most solvents
Applications
Cleaning surfaces
Applying oils, adhesives, fluxes and lubricants
Chemtronics March Promotion
FREE shipping on all orders
Use promo code:
Shipfreemarch
Save Now!