CircuitWorks Epoxy Overcoat (Adhesive Syringe)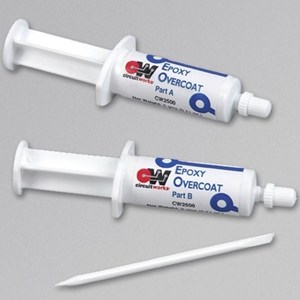 Request a Sample
Your Sample Request
CircuitWorks Epoxy Overcoat (Adhesive Syringe)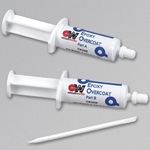 *=required field
CircuitWorks Epoxy Overcoat (Adhesive Syringe)
CircuitWorks® Epoxy Overcoat is a two component, 100% solids, high temperature resistant, permanent epoxy coating for electronics circuit and component protection. When properly cured, CircuitWorks® Epoxy Overcoat yields a chemically inert film which prevents the effects of corrosion, moisture, oxidation, abrasion, and thermal shock. The cured film can withstand brief exposure to high temperatures up to 600º F.
Features & Benefits
Provides a tough, protective, green coating
Outstanding thermal and chemical resistance
Excellent dielectric properties; helps prevent electrical discharge
Provides superior protection against moisture and abrasion
Resists reflow temperatures
Service temperature from -55ºF/-48ºC to 600ºF/315ºC
Meets the requirements of IPC-7721, 2.4.1
Applications
Ideal for pre-reflow solder resist repair
Electrically insulative coating helps prevent electrical discharge
Will not be removed by solvent cleaners
Chemtronics March Promotion
FREE shipping on all orders
Use promo code:
Shipfreemarch
Save Now!