Max-Kleen Citrus HF Degreaser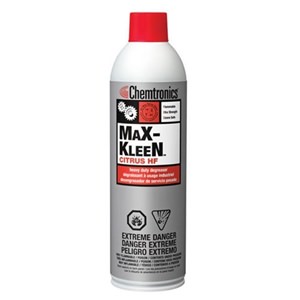 Request a Sample
Your Sample Request
Max-Kleen Citrus HF Degreaser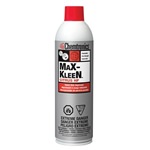 *=required field
Max-Kleen Citrus HF Degreaser
Max-Kleen™ Citrus HF Degreaser is ideal for removal of all types of soils including oxidized grease, sludge, wax, tar and oil. The moderate evaporation rate increases the cleaning power for hard-to-remove soils. The low surface tension provides for superior wetting to clean in even the tightest spots. Max-Kleen™ Citrus HF Degreaser has a flash point greater than 140º F which may be advantageous when planning for disposal of used rags.
Features & Benefits
Citrus-based formula with moderate evaporation rate
Quickly removes all types of tough soils including oxidized oil and grease
Safe for use on most metals and plastics
Flashpoint greater than 140º F
Non-corrosive and nonconductive
Low Toxicity
Leaves no residue
Applications
Removes grease, oil and lubricants
Ideal for metal parts cleaning and tools
All repair and maintenance cleaning
Cleans contacts, relays, switches, circuit breakers and test probes
Cleans electric motors and gasoline engines
Removes tough soils from gears and pulleys
Use for maintenance of air compressors
Cleans inks
Chemtronics March Promotion
FREE shipping on all orders
Use promo code:
Shipfreemarch
Save Now!