MAKER AWARD: John Deere engineer, Joshua Hinz, designs low cost COVID-19 screening stations
By Kevin Pawlowski
Marketing Communications Manager
At Chemtronics, we offer a wide variety of products for assembly and repair of electronic devices. That's not to say our customers always use our products as intended. It boggles my mind to think about all the creative uses engineers find for aerosol duster (aka. "canned air"), from killing bugs (flash frozen, of course) to (in this case) pressurizing a hands-free temperature system.
You might not realize this, but when you send a message through our website, it isn't filtered by some robot or sent away to some faraway land for processing. It drops into my inbox. A request came through for extra duster extension tubes (those little red straws taped to the side of the can). Keep in mind, it isn't out of character for me to toss a handful of cheap parts like straws into an envelope, no questions asked. In this case, my curiosity got the better of me, and I asked why so many straws were needed.
Joshua Hinz was given a unique challenge at John Deere – to engineer a low cost hands-free screening system. Employees come in a number of different entrances, and they all need to have their temperature screened daily. If they show a fever, they are instructed to turn around, go back to their car, and call in and report their situation. This prevents a potential COVID-19 case from entering the facility and spreading the virus.
He wasn't given a TSA-worthy budget for thermal scanners, and they don't have the personnel to man each station. To add to the challenge, these stations need to be stand-alone, and power and compressed air lines are not guaranteed in every location.
Joshua's solution was a low cost temperature scanner on a tri-pod, with a hands-free control system made of off-the-shelf components. You place your hand under the device, press the foot petal, and a mechanical finger extends to press the button, which activates the scanner to take your temperature.
The foot petal, which does not require power, sends an air pulse to activate the sensor actuation finger. The system needed to be adequately pressurized, and what easier way to do that than with Chemtronics Ultrajet Duster?
Detail showing automatic actuator on temperature scanner. Basically a finger that extends to push the scanner button.
Underside of the pneumatic foot petal.
Interface point to inject gas to pressurize the system with Chemtronics Ultrajet Duster (part #ES1020).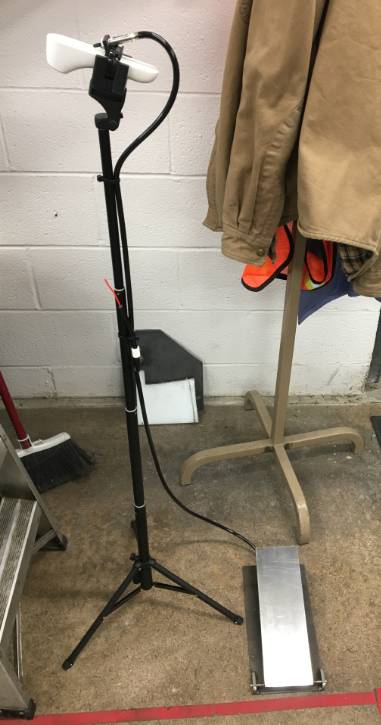 Complete hands-free temperature system.
Video demo of hands-free temperature system in action.
Joshua was kind enough to send me his parts list so you can build your very own hands-free temperature system…
Hands Free Temperature System Parts List
| Item PN | Description | Quantity | Source |
| --- | --- | --- | --- |
| ES1020 | Chemtronics Ultrajet Duster (10 oz) | 1 | Chemtronics |
| F800BA | PresAir soft foot pedal | 1 | PresAir |
| 0.31NSR00.25 | Parker SR series .25" stroke cylinder | 1 | Parker via Nott |
| EB30 | Pneumadyne 10-32x1/8" barb fitting | 25 | Pneumadyne (25 pack) |
| 1ZJD9 | 1/8" barb nylon tee fitting | 10 | Grainger (10 pack) |
| 4DHY6 | 1/8" barb nylon ball cone check valve | 1 | Grainger |
| N/A | Eocean 54" Telescoping Tripod | 1 | Amazon |
| N/A | iHealth PT3 Temporal Scanner | 1 | |
| 97171A230 | Melt-In Brass Inserts 1/4 20 | 25 | Grainger (25 Pack) |
Special thanks to Joshua and John Deere for sharing this creative solution for COVID-19 screening. We all hope it helps other companies maintain safe environments during the COVID-19 pandemic.
If you have a creative use for a Chemtronics product, please send me details. You might want to skip the bug-killing devices – I already have my own collection of those!
Subscribe
Stay up-to-date on Chemtronics news, products, videos & more.
Related Categories