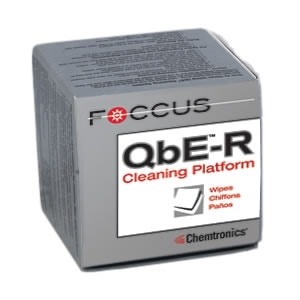 Request a Sample
Your Sample Request
QbE-R Cleaning Platform
*=required field
QbE-R Cleaning Platform
Offering a unique ridged platform, the QbE-R Cleaning Platform is designed to clean all FTTx connector geometries, including SC/LC, MT-Type, OptiFit®, and e2000 by cleaning the entire connector. It is the ultimate in performance and convenience, and provides First Time Cleaning, all the time.
Features & Benefits
Developed specifically for use with 2.5 mm SC and APC recessed connectors• Complete Fiber Optic Cleaning System — no refills to buy or investment in expensive mechanisms to maintain
Provides the optimum cleaning surface – FiberSafe™ cleaning platen is perfect for outside plant or OEM applications
Heavy duty lint-free wiping material — tough enough to remove buffer-gel and heavy soils, yet soft and compliant for safe end face cleaning
Patented — U. S Patent Number 6,865,770 and foreign patents
Applications
End face cleaning for SC, APC & MTP Recessed Connectors
Fusio splice preparation
Buffer gel removal
Chemtronics March Promotion
FREE shipping on all orders
Use promo code:
Shipfreemarch
Save Now!