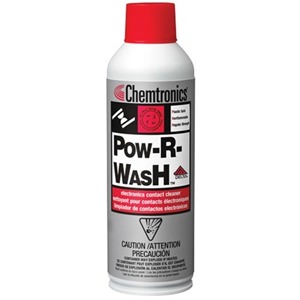 Request a Sample
Your Sample Request
Pow-R-Wash Delta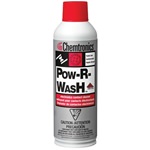 *=required field
Pow-R-Wash Delta
Pow-R-Wash™ Delta electronics contact cleaner is a highly effective solvent cleaner for electrical and electronic components and assemblies. Nonflammable, and compatible with most metals and plastics found in electronic assemblies, it is safe on energized equipment, fast drying and has excellent solvency for oil, grease, dirt.

Contact cleaners restore electrical continuity to all electronic and electrical contacts by penetrating and removing insulating oil & grease, conductive carbon soil, and isolative oxides from contact surfaces. By restoring full circuit continuity, Chemtronics contact cleaners improve the performance of electronic equipment that relies on electrical contacts.
Features & Benefits
Nonflammable and fast drying
Best AK225 replacement chemistry
Fast drying
Dielectric breakdown 30 kV
May be used on energized equipment
Excellent material compatibility
Displaces moisture and leaves no residues
No ozone depleting compounds, low VOC and GWP
Applications
Removes carbon dust from circuit breakers
Cleans oxidized oil from contacts
Ideal for cleaning electrical motor assemblies
TDS
MSDS
(ANSI)
SDS (GHS)
Categories
Chemtronics March Promotion
FREE shipping on all orders
Use promo code:
Shipfreemarch
Save Now!