Conductive Inks and Epoxies
Conductive Inks and Epoxies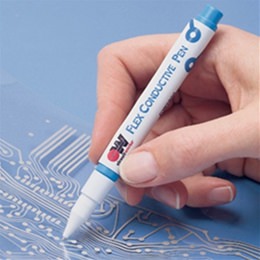 ---
Contact Us
Contact Us
Conductive Inks and Epoxies
*=required field
PCB Trace Repair, RF & EMI Shielding Patch, & Solderless Connections
A common method of repairing a broken trace is to solder on a jumper, which is basically a wire bypass around the broken trace. This can be time-consuming and visually unappealing. Chemtronics offers CircuitWorks® Conductive Pens, which contain a highly conductive material like silver or nickel suspended in a liquid polymer. These pens allow you to literally redraw the trace. 2-part conductive epoxy is a great solution for making solderless electronic connections. CircuitWorks Conductive Paint is a single component, silver-filled polymer that dries in minutes at room temperature, making it an ideal solution for patching EMI/RFI shielding.
CircuitWorks® brand's comprehensive line of conveniently packaged and precision dispensing rework and repair products makes circuit board repair and prototyping faster, easier and more accurate. Advanced-formula materials packaged in unique delivery systems ensure superior performance and pinpoint accuracy. The full range of products meets all of the technicians needs for electronics rework and prototyping — repairing, cleaning, protecting, lubricating, bonding, and restoring electrical conductivity to circuit boards and components.

CircuitWorks® Products are compliant with IPC-7711 Rework of Electronic Assemblies, and ANSI/J-STD-001.
---
FAQ's
Articles
---