DPL Deep Penetrating Lubricant
6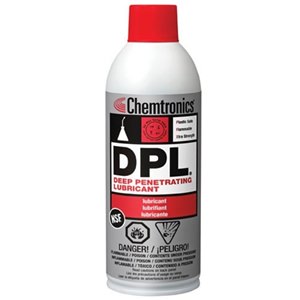 Request a Sample
Your Sample Request
DPL Deep Penetrating Lubricant
*=required field
DPL Deep Penetrating Lubricant
DPL® Lubricant is specially engineered to clean, displace moisture, inhibit corrosion, reduce friction and protect metal surfaces in one easy step. Formulated to provide long-lasting protection and improved performance to electrical and electronic contacts, DPL® Lubricant is the extra-strength multi-purpose lubricant that provides a long-lasting film that protects metals from corrosion under the most extreme conditions. DPL® Lubricant is registered with the NSF as an H2 lubricant for use in and around food processing areas.
Features & Benefits
Restores, rejuvenates, protects and preserves contacts
Foaming spray penetrates deeply to remove moisture and condensation
Loosens, cleans, lubricates and protects frozen or corroded parts
Dielectric strength of 30 kV
Contains no chlorinated solvents, no silicone
Non-corrosive and nonconductive
Safe on metals and plastics
NSF Registered - Nonfood Compounds / Code H2
Applications
Cleans, protects, and lubricates all electrical and electronic switches, contacts, relays, plugs, and sockets
Can be used in applications exposed to extreme weather conditions
Displaces moisture from electrical and electronic components
Minimizes friction and metal wear
Excellent corrosion protection under high humidity and salt spray conditions
Loosens rusted cabinets and hinges
Works on most metals, even aluminum
Contains special corrosion inhibitors
| | |
| --- | --- |
| Shelf Life | 5 yrs. |
| Shipping Name | Consumer Commodity ORM-D |
Order from an authorized distributor
FAQ's
Articles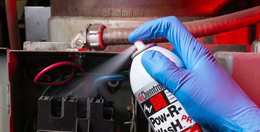 Ultimate Guide to Contact Cleaners
You're getting intermittent issues with your device, so you suspect there's contamination in the electrical contacts. Dust, dirt, grease, and oxidation contamination can increase electrical resistance in contact areas. That means the current flow is potentially reduced or interrupted, affecting the ...
Read This Post