DPL Deep Penetrating Lubricant
4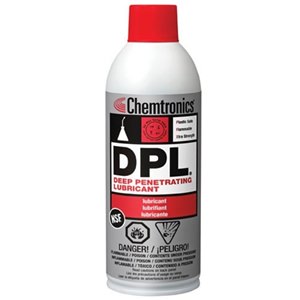 Request a Sample
Your Sample Request
DPL Deep Penetrating Lubricant
*=required field
DPL Deep Penetrating Lubricant
DPL® Lubricant is specially engineered to clean, displace moisture, inhibit corrosion, reduce friction and protect metal surfaces in one easy step. Formulated to provide long-lasting protection and improved performance to electrical and electronic contacts, DPL® Lubricant is the extra-strength multi-purpose lubricant that provides a long-lasting film that protects metals from corrosion under the most extreme conditions. DPL® Lubricant is registered with the NSF as an H2 lubricant for use in and around food processing areas.
Features & Benefits
Restores, rejuvenates, protects and preserves contacts
Foaming spray penetrates deeply to remove moisture and condensation
Loosens, cleans, lubricates and protects frozen or corroded parts
Dielectric strength of 30 kV
Contains no chlorinated solvents, no silicone
Non-corrosive and nonconductive
Safe on metals and plastics
NSF Registered - Nonfood Compounds / Code H2
Applications
Cleans, protects, and lubricates all electrical and electronic switches, contacts, relays, plugs, and sockets
Can be used in applications exposed to extreme weather conditions
Displaces moisture from electrical and electronic components
Minimizes friction and metal wear
Excellent corrosion protection under high humidity and salt spray conditions
Loosens rusted cabinets and hinges
Works on most metals, even aluminum
Contains special corrosion inhibitors
| | |
| --- | --- |
| Shelf Life | 5 yrs. |
| Shipping Name | Consumer Commodity ORM-D |
Order from an authorized distributor
FAQ's
How do I properly dispose of an aerosol can after it is empty?
It may be different state-by-state, so contact your state environmental agency for regional specific regulations. For a general guideline, here is the process according to EPA hazardous waste regulations 40CFR. The can has to be brought to or approach atmospheric pressure to render the can empty. Puncturing is not required, only that it "approach atmospheric pressure", i.e. empty the can contents until it's no longer pressurized. This insures that as much contents as is reasonably possible are out of the can. It is then considered "RCRA-empty". At that point it can be handled as any other waste metal container, generally as scrap metal under the recycling rules. Note that the can is still considered a solid waste at this point (not necessarily hazardous waste).
Is there something I can do with the extension tube (straw) so it doesn't get lost?
The red cap on Chemtronics aerosol products like flux removers, degreasers, and Freeze-It Freeze Spray has a notch on the top. That is engineered for the straw to snap in and hold into place so you don't loose it. The aerosol trigger sprayers that are common on dusters, freeze sprays, and flux removers, have two ways to store the straw when not in use. The hole at the back of the body of the sprayer is just the right size for the straw to slide into place for storage. The slot below the trigger is also the right size for the straw to snap into place, which also has the advantage of locking the trigger.
How do I figure out the shelf life of a product?
The shelf life of a product can be found on either the technical data sheet (TDS), available on the product page, or by looking on the certificate on conformance (COC). The COC can be downloaded by going to https://www.chemtronics.com/coc. Once you have the shelf life, you will need to add it to the manufacture date for a use-by date. The manufacture date can be identified by the batch number. The batch code used on most of our products are manufacture dates in the Julian Date format. The format is YYDDD, where YY = year, DDD = day. For example, 19200 translates to the 200th day of 2019, or July 19, 2019. This webpage explains and provides charts to help interpret our batch numbers: https://www.chemtronics.com/batch-codes.
Articles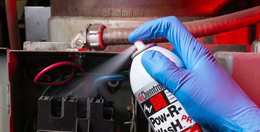 Ultimate Guide to Contact Cleaners
You're getting intermittent issues with your device, so you suspect there's contamination in the electrical contacts. Dust, dirt, grease, and oxidation contamination can increase electrical resistance in contact areas. That means the current flow is potentially reduced or interrupted, affecting the ...
Read This Post